Issue #26 - Sunday, October 14, 2012
Dear Fellow Grower,
In today's issue you'll discover...
Check out GrowWeedEasy's Top 10 hand-picked marijuana growing videos available anytime on YouTube!
Learn about a highly rated, super efficient, safer and cheaper way to vaporize (and get the most out of) your homegrown medicine.

Learn how you can give back to the marijuana growing community

A set of awesome trophy pics sent in by one of our readers. If you're not already growing, see what you could be doing!
We hope you enjoy this issue of Grow Weed Easy!

Happy Growing!
Nebula Haze and Sirius Fourside (founders of GrowWeedEasy.com)
"The prestige of government has undoubtedly been lowered considerably by the prohibition law. For nothing is more destructive of respect for the government and the law of the land than passing laws which cannot be enforced. It is an open secret that the dangerous increase of crime in this country is closely connected with this."

-Albert Einstein


10 Best Marijuana Growing Videos on YouTube
By Nebula Haze
Today, we're doing something a little different.
Many of you have written in to say that you love growing videos, so I've researched 10 of the best videos about growing marijuana available for instant access on YouTube.
These videos were specifically chosen because they answer some of the most common questions we receive at GrowWeedEasy.com, in video form!
1.) How to Grow Marijuana Indoors with Hydroponics - Beginning to End
"I Grow Chronic" by Mr. Green
He's green, he knows how to grow, and he's eager to show you too.
This video series shows you how to construct a basic indoor grow-room that yields a 1/4 pound of chronic medical grade marijuana every two months.
Mr. Green takes out the mystery and confusion surrounding the construction and
maintenance of an indoor marijuana grow room by breaking it down into basic easy-to-follow steps.
2.) Impressive Auto-Flower Grow Video
"The Most Amazing Autoflower Grow Ever Recorded!!!- LED, DWC, THINK DIFFERNT" by DrAutoFlower


http://www.youtube.com/watch?v=_bIbGxFMZGo
(I have no control over the music)
Many growers write in to GrowWeedEasy.com with questions about auto-flowering strains of marijuana. These strains go through their whole life cycle "on their own," and don't need light and dark periods to tell them when to start growing buds.
These strains tend to be higher in CBD, which can be very medicinal. However, auto-flowering strains often produce very low yields compared to non-auto-flowering strains, partially because their auto-flowering nature takes away a lot of your control as the grower over the size of your plants.
This video proves that you can get great yields with an auto-flowering strain of marijuana.
3.) 52 Minutes of Outdoor Growing Training 
"Marijuana: A Grower's Lot" by Kog
Even after going to prison for growing, Kog continues to serve the growing community by sharing his information with these valuable videos. In 52 minutes, he takes you through an entire outdoor marijuana grow in Australia.
4.) Quick! Get Started! Germinating Marijuana Seeds Via the Paper Towel Method
"Germinating seeds in paper towels" by Rodrigo0DC
http://www.youtube.com/watch?v=To2DlJwErao
This method works great for marijuana. Remember, marijuana seeds should NOT get light during the germination process. If you don't want to use plastic sandwich bags, you can use the exact same method, but just place the paper towels between 2 plates.
Learn more about germinating marijuana seeds here:
http://growweedeasy.com/how-to-germinate-marijuana-seeds
Simple Techniques That Magnify Your Yields
5.) How to Control the pH of Your Water When Growing Marijuana
"How to check and adjust the pH of your water" by Nebula Haze
http://www.youtube.com/watch?v=wh3mnwnFwIQ
Do you seem to keep getting nutrient problems and have no idea why?
It might be your pH! This video explains how to check and adjust the pH of your water before watering your marijuana garden.
Want to learn more about why this is important? Learn everything you need to know about marijuana nutrients and root pH here: http://growweedeasy.com/how-do-i-check-the-pH-of-my-water

5.) Grow Short and Bushy Plants: How to FIM and Top Marijuana Plants
"How to F.I.M and Top Your Marijuana Plant" by Grow420Guide


http://www.youtube.com/watch?v=u0gr4Bez3Xg
Warning: Short commercial at beginning
This video describes and show two methods growers use to get additional colas (so you have a wide bushy plant instead of a tall plant with a single cola).
The two techniques are known as topping and FIMing. At GWE, we've covered both methods extensively and they both work extremely well to get your plants to grow multiple colas.
This grower likes to top then FIM his plants. At GWE, we believe both work great though we generally recommend FIMing since it is less stressful to the plant, and creates 4 colas instead of just 2 like topping.
You can FIM multiples times, and it doesn't slow down the plant's growth as much as topping does.
Learn more about the pros and cons of FIMing vs Topping right here:
http://growweedeasy.com/marijuana-growth-control-vegetative-stage#topping-vs-fimming-marijuana

6.) Defoliation For Growth Control and Cloning
"How To Clone & Defoliate Marijuana" by Nugporn


http://www.youtube.com/watch?v=alRSi2BwUT8

Gil sits down with Chris from Green Cuisine and learns how to defoliate his plants as well as how to clone them for the next vegetative cycle.
7.) Growth Control: Low Stress Training (LST) For Bigger Yields

"Tie Her Down to Increase your Marijuana grow yields!" by IAMHEMP420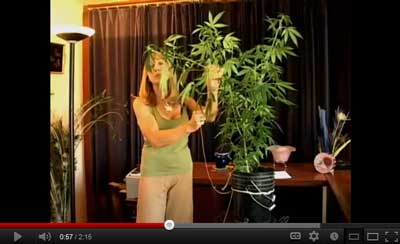 http://www.youtube.com/watch?v=x_VoDKj6kmU
As the gardener, you have ultimate control over how your plants grow.
Fun Stuff for Growers to Look At
8.) 45 Second Time Lapse of Full Marijuana Grow
"Marijuana Time Lapse - 80 days in 45 seconds" by HerbanGrower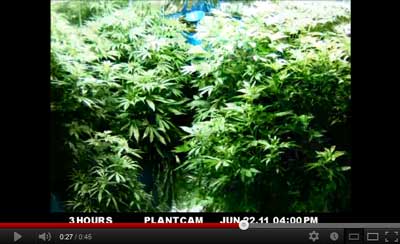 http://www.youtube.com/watch?v=tN0ihkOCy_A
Time lapse of an entire marijuana grow - 80 days in 45 seconds. In addition to being cool, this video can help new and experienced growers get an "overview" of what the entire marijuana life cycle looks like.
9.) Jorge Cervantes Takes You On 10 Minute Video Tour of Some of The Coolest Outdoor Marijuana Growing Spots
"Medical Marijuana Outdoor Gardens Tour - 10lb.+ MEGA Plants!!"  by Jorge Cervantes
http://www.youtube.com/watch?v=oPSHxdB55ys
Your breath will be taken away by this beautiful 10 minute tour of incredible fields of outdoor marijuana plants around the the world with commentary by world-renowned grower Jorge Cervantes.
I especially loved this comment:
"Find it funny how a beautifully filmed and put together video showcasing FLOWERS is age restricted based on community guidelines."

MrBlaqkbox
10.) See What Chronic Marijuana Buds Look Like, Up Close and Personal!
"EPIC Macro MADNESS" by KoMA Trichome
http://www.youtube.com/watch?v=ADbiZEtv-bY
This video was made by KoMA Trichome, a friend of GrowWeedEasy.com who has unparalleled knowledge on growing and breeding unbelievable medical marijuana. If you like sparkly buds, this video will absolutely blow you away.
If you loved these growing marijuana videos, you will appreciate this cool resource which contains a collection of just medical marijuana growing YouTube videos with ratings
http://medicalmarijuanagrowingtv.com
Looking for more?
Check out these extra BONUS growing videos available on YouTube:
Full Length Documentary - Quality Indoor Marijuana Cultivation
2-hour video guide on how to grow marijuana.
Warning: Short YouTube Commercial in beginning
http://www.youtube.com/watch?v=wz8JdL99tts

When We Grow, This is what we can do (Full Documentary)
Educational documentary concerning the facts about cannabis, from industrial hemp to medicinal cannabis
http://www.youtube.com/watch?v=PSKJrgGqx_E

HIGH TIMES PRESENTS : Nico Escondido's Grow like a pro
2 hours of comprehensive cultivation coverage and bonus material (shot in HD) of America's top medical grow facilities. Indoor growing, greenhouse techniques & outdoor cultivation.
http://www.youtube.com/watch?v=fT1hry-F_Zg

Stoned Free Guide to Growing Cannabis
Lots of great information in this 40-minute long film on how to grow marijuana.
http://www.youtube.com/watch?v=sJ_a1Wv2ryc

How to Make Canna-Butter - Medical Marijuana Butter Recipe - Ease Your Chronic Pain!
Part 1: http://www.youtube.com/watch?v=hUDyVzV_n-Q
Part 2: http://www.youtube.com/watch?v=e_pwRsn1gpo

Nutrient Comparison: Dyna-Gro vs. Advanced Nutrients
The Proof Is In the Harvest Shots. Dyna Gro fed plants ended up yielding the exact same amount of buds, in less time and costs less than expensive Advanced Nutrients.
http://www.youtube.com/watch?v=_jojOwf8CxA

How to Tell If Your Cannabis is Ready For Harvest
How to tell when your cannabis has reached full maturity and the effect this has on the final product.
http://www.youtube.com/watch?v=gFavS7w6ALU

Ready. Set. Grow. (High Times Marijuana Growing)
Instructional film series (7 videos) teaches you everything you need to know to grow marijuana safely indoors in the privacy of your home.
http://www.youtube.com/watch?v=M4odpIVLNro

Save Electricity and Reduce Heat with LED Grow Lights
Wondering about LED grow lights? A good friend over at GrowMedical420.com posted a YouTube video revealing his results growing marijuana with the Pro Grow X5... one of the first 5W chipset LED grow lights that has actually been used for growing marijuana. So far, the Pro Grow X5 has out-performed any other LED grow lights we've tried with growing marijuana.
YouTube Video Showing Results: http://www.youtube.com/watch?v=IdglFn6VXfE
Learn more about the Pro Grow X5: http://www.hydroponicshutaffiliate.com/idevaffiliate.php?id=117&url=11

If you've had great results with LED grow lights, please reply to this newsletter and tell us as we will be during a thorough investigation of LED grow lights in the future!
Stay tuned for next week's article on a marijuana growth control technique that gives you bigger yields!


---
About Nebula Haze:
Marijuana has literally saved my life, and I'm dedicated to showing you how easy it can be to grow.
Join

 

GrowWeedEasy

.com on Facebook
Check It Out!
Nebula here.
I first bought a Magic Flight Launch Box in May 2010, and 2 years later I still use my MFLB almost daily.
Read my
full review of the MFLB
(along with a training video on how to get the most out of vaping with this little vaporizer):
http://growweedeasy.com/magic-flight-launch-box-vaporizer-review
The Magic Flight Launch Box is one of the most portable and discreet electronic vaporizers available.
Why I love my MFLB
Totally discrete, does not look like a smoking device
Vapor does not really smell like marijuana
Small enough to fit inside the palm of your hand or inside a pocket
Comes with a convenient carrying case, like a little lunch box
Instead of using butane or flame, this handheld unit runs off rechargeable AA batteries
Start vaporizing within 10 seconds
Lifetime Warranty (though you probably don't even need it). I bought mine more than 2 years ago, and as you can see from the pic, the sticker on the box is peeling. However, the MFLB itself works as awesome as the day I bought it. I still use it all the time, and it's always ready to vape in 10-12 seconds.
Just do yourself a favor and get yourself extra batteries! If you're anything like me, you'll end up using this baby a lot!
Though many different batteries can work with the MFLB, I recommend getting spare batteries from the MFLB people for best results:
http://growweedeasy.com/MFLB-batteries
  We Need Your Help! 

Ever wondered how you could help overgrow the world?
Interested in getting exposure while showing off your growing skills and helping other growers around the world produce bigger, more potent buds?
Do you have experiences, pictures, or lessons learned that you believe will be helpful for other growers? 
If so, we want to hear from you!
Nebula Haze and Sirius Fourside, founders of GrowWeedEasy.com, have dedicated their lives to building the most comprehensive, easy-to-follow marijuana growing resource in the world. 
We know that the best way to get medicine into the hands of those in needs is to provide people with information that makes it easy for anyone to grow it themselves....
Some feedback we got on GrowWeedEasy.com...
"This is , hands down, the best, most informative, easy to understand site that I have seen. Thank you"

"Thank you for your information. A great intro to growing. Peace."

"I wanted to say that your site is FANTASTIC!. Thank you sooo much for sharing your information."

"Keep up the good work!"

"Very helpful indeed,for newB's an the more X'p peeps.!!. :-)"

"AWESOME!"
I'm not going to lie...I LOVE getting this kind of feedback! Thanks for your support everyone!
~Sirius

This week: Our Readers Trophy Pics!
Check out some awesome pics of cannabis grown by one of our readers! We love seeing pics from people we've helped grow their own buds!
Click pictures for a MUCH LARGER version!
Want to show off your beautiful trophy pics?
Submit your marijuana pictures here: http://growweedeasy.com/submit-trophy-pics
Anyone who sends us pictures is kept completely anonymous!
We thoroughly inspect pictures to ensure your privacy remains safe.

Remember, sharing is caring!
Forward this email to a friend in need!  


Copyright © 2012 GrowWeedEasy.com
 

NOTE: If URLs do not appear as live links in your e-mail program, please cut and paste the full URL into the location or address field of your browser. 

Disclaimer: Grow Weed Easy only recommends products that we've either personally checked out ourselves, or that come from people we know and trust. For doing so, we may receive a commission. 
Nothing in this e-mail should be considered personalized Financial, Legal, or any other kind of Advice. The contributors to this magazine grow legally under their local laws. If you cannot legally grow where you live, we DO NOT recommend that you start growing marijuana, as you can be arrested, put in prison, or worse! 
Any decision to grow marijuana should only be made after consulting with an experienced lawyer or other legal adviser. Although our employees may answer your general customer service questions, they are not licensed under securities laws to address your particular investment or legal situation. No communication by our employees to you should be deemed as personalized Financial or Legal Advice. Any investments and steps recommended in this letter should be made only after consulting with your lawyer or other legal or investment adviser. 
Nothing in this e-mail should be considered personalized Health Care Advice. Although our employees may answer your general customer service questions, they are not licensed health care professionals. No communication by our employees to you should be deemed as personalized Health Care Advice. Any Health Care recommended in this letter should be made only after consulting with your Doctor and licensed Health Care Advisor.