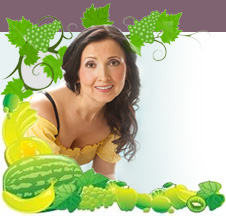 Newsletter From BeautifulOnRaw,
March 2011
Your Raw Foods Journey and Your Loved Ones
Recently I received a touching email from a woman--call her
Karen--whose husband spends long periods abroad.  In addition to
coping with his absence, she is also struggling valiantly toward a
sound raw food lifestyle. Karen's doing great, she reports, when
her husband is away--nothing worse than occasional slips. But...

When Rick comes home, he wants to take me out for dinner, wants to
cook at home for me. He means well, and does it out of love, but
totally derails me. I'll be successfully raw for months without
him. Then he gets off a plane and before you know it, I am eating
cooked restaurant food. Then Rick goes again, and I'm left climbing
back on the wagon. Tonya, how can I break the cycle?

Many of you know that I too didn't have my loved ones on board when
I started my raw foods journey. That's an experience common to most
raw foodists, most vegans and vegetarians, and indeed even to most
weight-loss dieters. A family is comprised of individuals, people
with their own ideas and with their own free will. What are the
chances that a whole family--even both members of a couple--will all
come to the same conclusion at the same moment? If you can't get
everyone in-sync to clean the garage on a particular Saturday,
they're also not going to coincide on a major lifestyle change--that's for sure.

So the question becomes...Who wins? Karen?--or Rick? You?--or your
kids? And the battle begins.

But wait! Who says it has to be a battle? You might set it up that
way in your household. And I'll confess: I did in mine, to some
considerable extent. My family would likely tell you that I started
my first lecture tour well before I left the house.

Am I saying Karen should give in? Should endure downing
twelve-ounce T-bone steaks and baked potatoes because that makes
Rick feel comfortable? No--that's not a good idea either.

So what's my easy-breezy solution then?  Haven't got one. Getting
through the door might be hard. But I do have some keys...

Let's start with love. That's a good place to start for a lot of
purposes. Karen...you have a husband whom you love, and who loves
you. Now, there's a fact worth a bucket of gratitude.

Second, in response to Rick's desire to cook, suspend your desire
to correct or teach. Thank you, dear. You are so kind and loving.
Period. Then say: May I make a suggestion? Wait. Listen. You'll get
a yes, of some sort. Then make your suggestion, putting it as a
question. Your question might be...

Could I show you a neat raw recipe for that?

How would you feel about using raw honey in place of sugar?

Would you be game to try substituting coconut milk instead?
Questions--invitations, really--do more to persuade than insistence
ever did.

Back to Karen's plea...we're talking love, here. A relationship--not
rules. Your ultimate aim is: Get Rick to move toward your
lifestyle, at least to the extent of his understanding and
accepting your choice. A simple thought: If you won't compromise,
why would you expect Rick (or your girlfriend, or your kids or your
brother-in-law) to compromise? At the same time, if you don't show
some firmness, why should the Ricks and kids and other loved ones
believe in what you're doing?

Karen's specific situation may be a bit peculiar. But it's not
wholly different from what the rest of us face. I hope you find
some value here.

One final reminder to those already arrived at the raw food
lifestyle and those actively seeking it: In the eyes of the
mainstream, it's not other people who are odd, unusual, "not
normal"-- we are. We left Averageville some time back. Nothing's
wrong with your husband Rick, Karen. Don't threaten or reject his
love by fighting over food. We are born to love, I submit--not to
battle, contest, impose our good intentions on others, nor even to
eat particular food.

Begin with love. That's where the bridge begins.

Anti-Aging Success of Two Women: Get Inspired!
Admit it--you love happy endings, don't you? I do. Happy new
beginnings, even more so. I thrill at every success story I hear,
whether it's a successful raw food weight-loss story or a triumph
over a health challenge.

So it's a happy day for me whenever I get an e-mail success story
about someone's wonderful experience seeing the youthening in
his/her mirror when he/she adopts the beauty and anti-aging
practices I write about and recommend. Women and men worldwide are
defying aging every day. The real news: It doesn't take costly
supplements or surgical procedures. Just three simple foundations
are all you need to get on your way: a raw food diet...skin care...and
body and facial exercises.

The first time I heard from Sylvie was in 2009 when she was reading
my books with an English-French dictionary. You may remember my
July 2010 newsletter article When It Isn't Happening Fast Enough.
We followed Sylvie's journey--a journey sometimes jubilant,
sometimes frustrated. I shed some light on a few of her questions
and disappointments, undoubtedly similar to those of many women.
Sylvie, at age 45, determined she would see her most youthful,
radiant self revealed and nothing would stop her. Now, at 46, she
has succeeded, as you can see in her lovely wedding photo below. I
am grateful to Sylvie for sharing this latest episode in her
anti-aging journey. Every man or woman can achieve results like
these--if you're willing to do what it takes.

Sylvie married her Prince Charming on his thirtieth birthday. She
wrote to me:

I want to thank you so deeply, Tonya. If it weren't for your
results, I don't know if I would have dared to marry him. I'm 46
years old! I didn't want to look like his aunt or his mother one
day. As you can see, it is not the case... And because of you (and my
efforts, of course), I am convinced that it will continue like
this. We are very happy together and we love each other so much...
Many miracles are happening in our lives. So it's with great
pleasure that I'm sending you a few pictures. You have a part in
our happiness!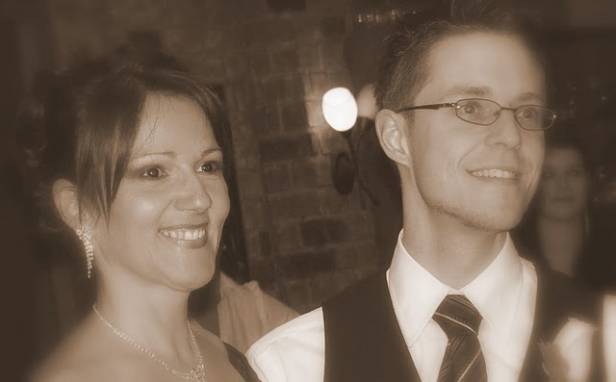 Congratulations, Sylvie! I applaud everyone who faithfully persists
in spite of obstacles or discouragement to get the results they're
after. You take things one step at a time, adding this, eliminating
that, and before you know it, daunting tasks become ingrained
habits.

Results start to show, nearly imperceptibly at first, then more
pronounced as you up the ante and start enjoying the age-defying
benefits of your daily effort. And don't forget: Your results are
cumulative. Today's juicing and skin brushing are tomorrow's
glowing skin. This month's facial exercises are next month's firm,
toned facial features and glowing skin.

Here's another email that delighted me...C.K. writes:

Tonya...It's taken me many months to begin using the dry facial brush
and the masque removing brush as part of my daily routine. I'm not
especially looking for "beauty'," but rather for healthy-looking
skin. Since December 2010, when I finally began to routinely use
facial brushing, I have definitely observed an improvement in the
tone and appearance of my face and neck.  The blackheads I've
endured for 66 years are not as large anymore. ... I don't know
whether this is directly related to my use of the facial brushing
or if my skin is changing due to my age; however, I do know that I
will continue to use the facial brushes for the remainder of my
life.

The message is... It is never too late to start turning things
around!  As Sylvie and C.K. teach us, it's only partly about looks.
Perhaps more importantly, for both women--and maybe for the rest of
us--it's equally about the feeling of getting better, looking
better, and the bright optimism those feelings bring. Onward!


My facial brushing routine involves facial dry brushing every night
and wet brushing every morning after applying the masque. The
Facial Brush for Glowing complexion comes FREE with the Cream
Special, and the Masque Removing Brush comes FREE with the
Masque Special.

If you didn't catch it last month, this video further explains my skin care routine:


The Best Toothbrush for Compromised Teeth...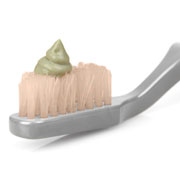 One of my customers asked: Will you be giving a free natural toothbrush with your Oral Balm?

Hmmm...I thought about it. Seemed so obvious--
a free, natural-bristle brush to go with our new Bentonite Oral Balm. I used to own one of
those brushes--they're excellent.

But now I'm using an electric toothbrush and I
like it. This is one of those rare times I prefer the new-fangled to the old,
the natural.

A sonic toothbrush is a worthwhile investment. I just gave one to
my son for his 30th birthday! I highly recommend them (I have no
financial interest and don't recommend any particular brand),
mainly because they create sound waves that help to dislodge
plaque, but also because it's so easy to get over-zealous and
over-scrub your gums with a traditional toothbrush. Learn more
about the causes of plaque and gum disease in this article.

Electric toothbrushes are less likely to create gum irritation and
excess wear on tooth enamel. If you follow the directions, electric
toothbrushes make it easier to do a gentler, yet more thorough job.
 
Advertisements for conventional toothpastes often show a brush
loaded with sparkly cream. Some of the pastes shown are arctic
white, others in bright blues or reds, still others come in
colorful stripes, and some even curl up fancifully at the end. Ask
around, and any honest dentist will tell you that these great globs
of toothpaste are far too much product to be using! Toothpaste
manufacturers might balk, but the truth is you only need a
pea-sized dollop, and even that recommendation is for common
store-bought toothpastes containing inactive ingredients and
fillers.

You'll find that pea-size dab quite sufficient, with the added
bonus that your product will last longer. One 2.3-ounce jar of
our new Oral Balm should last a full month.

Most people wet their brushes before use. My advice: Don't. Using a
dry, clean brush will prevent the product from getting diluted.
Your own natural saliva is all the moisture you need, and it offers
its own disinfecting properties.

Dip the clean dry brush into the balm at an angle, applying a small
amount to the end of the bristles. Gently brush for two full
minutes as recommended on the label.


But back to that "free gift" thing... I love
to give gifts. I am giving you one. Buy two
jars of our Bentonite Oral Balm with White
Oak Bark and Wheatgrass, and I'll send
you 2 FREE packages of our Siberian Resin Gum--my gift to you. Between the Oral
Balm and this natural resin gum, I resolved
my gum problems: no more unhealthy
deep gum pockets. Try this terrific combination and see if it works
for you! This special offer is available here...
FREE Rawsome Recipes and New Blog Articles!
My Favorite Raw Food Dish this Month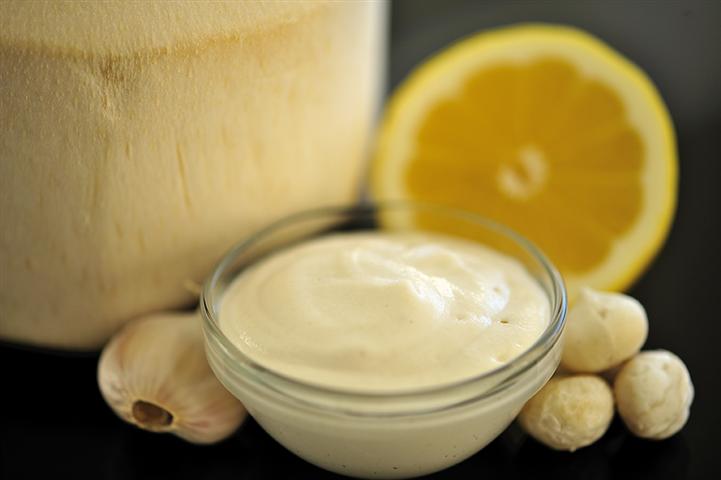 I don't know about you, but I don't change my menu drastically
every day. In fact, sometimes for a whole month straight, I like to
prepare the very same recipe. That is what happened with this
Coconut Dressing. I have been using lemon juice as the only
dressing on my salads for several years now. But last month, my son
was visiting with us, and I made one of the earlier recipes from my
Beautiful On Raw book, and we all loved it. I have been making it
every day for 2 weeks. I think this is one of the raw food items
that the whole family can enjoy and never object to it being 100%
raw. It's easy on the digestion, delicious and gives some variety
during these months when fresh produce may be limited.

Tonya's Coconut Dressing (pictured above):
1 young Thai coconut-water and the "meat"
1 cup macadamia or pine nuts, soaked a few hours
juice of 1/2 lemon
Celtic sea salt to taste

Combine all the ingredients in a blender and blend until
smooth. Pour over individual servings of your favorite salad
when ready to eat. Check out the recipe for Nick's salad that
goes great with this dressing and the other March Raw Food
Recipes here.

February 2011 Raw Food Testimonials
Hi Tonya, I am a big fan of your products-they are so natural and
silky and absorbent.  I was wondering if there any new products on
the horizon.  In particular, a hair oil. -R...Continue reading
Raw Food Testimonials

10 Tips for Eating Raw at Work
Often, I get emails from readers just embarking on vegetarian,
vegan, or raw foods programs. Here's "Bart," who has a lot in
common with many: Tonya...I've started my own better eating
program, inspired by your books. Not yet ready to go raw (though
that's my goal)...The trouble...Continue reading 10 Tips

The Inspiration Factor
I've been entirely privileged over the last thirteen years since
discovering the raw food lifestyle to have overcome many physical,
medical and dental challenges to reach a level of health I never
even known was possible. Certainly I've had my share of ups and
downs and learned many valuable things throughout the course of my
journey...Continue reading The Inspiration Factor

March Winners Announced!
This month, we have 7 new winners of our Reader Appreciation
Raffle!

If you are one of this month's winners, choose one item from the
following three to receive absolutely FREE:

---a jar of our Anti-aging Facial Cream,

---a jar of the Green Clay Masque or

---a physical copy of Quantum Eating


If you are one of the winners, email us at ordersBRPublishing@gmail.com
with your full name and email, choice of prize, and preferred
shipping address before the April newsletter is sent out!

This month, our winners are:

Name           Partial Email                  Date Added to List

Janie           qua....~@btinternet          11/11/06
Betty           bet..........@yahoo           01/14/07
Mari            sut.......@yahoo               05/05/07
Ladean        kd...@hotmail                 02/18/08
Ottiliana       ott.....@hotmail               03/16/08
Nathalie       nro....@gmail                  09/25/08
Mihaela        fat........@yahoo             01/15/11
Congratulations!
.................................................................................................................
Natural lifestyle website owners and bloggers, don't forget we
offer an Affiliate Program. Check out
this link
for further details:
May you enjoy a Rawsome Life and reveal your Rawsome Beauty.
Best wishes for your success!
Tonya Zavasta
www.BeautifulOnRaw.com
To ask a question about the raw food diet or to give a testimonial,
please send an email to our research assistant Kelli at
info@beautifulonraw.com.
Please direct any orders related questions to
OrdersBRPublishing@gmail.com