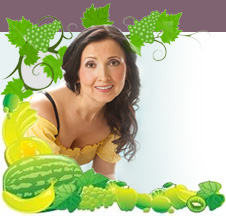 It's Pretty Scientific...You Can Be Pretty-Scientifically
When I came up with the idea, some eight years ago, that raw foods
help make us beautiful, many thought I was stretching things more
than a bit. Science has now come to the rescue--not that I ever
really thought I needed rescuing. Recent findings published in the
journal Evolution and Human Behavior have shown that you can
literally "eat your beauty food." The study, by Ian D. Stephen,
Vinet Coetzee, and David I. Perrett, reveals that eating a diet
rich in fruits and vegetables actually makes you look better and
gives your skin a color and glow reminiscent of a healthy tan.

If you've read my first book Your Right to Be Beautiful you know
I've been touting the beautifying properties of fruits and
vegetables for years. What a delight that science is finally
proving what raw food aficionados have long since discovered for
themselves. Sometimes, of course, we raw foods experimenters have
made that discovery the hard way. Ever encountered someone who's
"overdosed" on carrot juice for a while? That slight orange tint to
their skin is its own proof that not only do the nutrients in food
affect your looks, but so do the very colors of those foods!

I'm excited by the study. And it gives pause for reflection on the
relationship between science and the raw foods movement. On the one
hand, mainstream science so often seems embarrassingly behind. In
this case they are just now catching up with us on the
nutrition-beauty connection that I and others have been writing
about for years. On the other hand, science takes time. It's an
exacting, difficult, often expensive business to conceive an
experiment, to conduct it correctly, and interpret the statistics
soundly. So let's give science, on this occasion, a nod of
understanding and a big thumbs-up for their bringing still more
substance and rigor to the nutrition-beauty connection. Continue
reading: Food for Beauty
Bentonite Oral Balm with White Oak Bark and Wheatgrass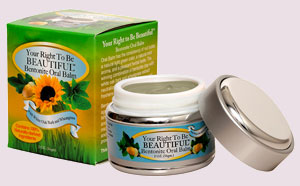 What's Wrong with Conventional Toothpaste?

One of the most important things you can do
for your overall dental health is to stop using
toothpaste off drugstore and supermarket
shelves. Commercials and popular culture
condition us to associate its refreshing flavor
and sudsy action with cleanliness and oral hygiene.
But the truth is: Conventional toothpaste just doesn't belong in a healthy person's toiletry kit.
 
Why wouldn't I consider using it again?  Regular store-bought
toothpastes contain a soup of damaging chemicals. Want proof? Start
by reading the warning label on the back of your toothpaste tube.
Swallowing toothpaste, especially fluoridated brands, can lead to
diarrhea and nausea. Toothpaste must be kept away from children
under six, and if you ingest an amount greater than needed for
brushing, it's time to call either a physician or the Poison
Control Center.

Question: If it's dangerous to swallow it, does it have any
business being in your mouth?

To read more about harmful ingredients of store bought toothpastes,
click here. 

So if conventional toothpaste is bad for you, is there a better
option? In my ebook 100 Days to 100% Raw, one of the first things I
recommend to those transitioning to the raw food lifestyle is to
start brushing with a mixture of sea salt and a pure, natural soap.
People who have preserved their healthy teeth into their advanced
years swear by this recipe. Those who begin with compromised teeth,
as I did, may find this combination somewhat harsh. Struggling with
my own tooth and gum sensitivity, I started to develop my own
formula.

The result: Bentonite Oral Balm with White Oak Bark and Wheatgrass
was born. It has the consistency of nut butter, a natural light
green color, a natural mint aroma, and a pleasant herbal taste.

Bentonite clay with white oak bark and wheatgrass extract is a
winning combination to leave your mouth fresh, clean and healthy.
The difference is so remarkable; I wouldn't be surprised if you'd
never want to use conventional white (silica) toothpaste again.
 
Click here to learn more about the ingredients that make up our
Oral Balm and check our special offers here.

New Video: Lose Weight, the Right Way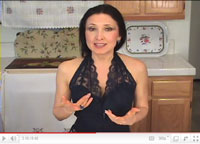 An indisputable fact: There's simply no better, more natural or
healthier way to lose weight than by transitioning to raw foods.
When the raw food regimen is done correctly, it's virtually
impossible not to find the perfect weight for your own body. (If
you need to gain weight you might want to check out these two blog
articles....

Coming from a long line of 'full-figured women' myself--check out my
'before' picture in the new video--I'm a walking testimonial. I've
enjoyed my own raw food journey more and more over the years. If
losing weight matters to you or your loved one, treat yourself to
the information and encouragement I'm offering in my latest video

FREE Raw Food Recipes and New Blog Articles!
January 2011 Raw Food Recipes
A new month, a new year, a new decade and some new recipes seems
like a winning combination. Here are a few ideas to kick off your
Rawkin' New Year right, incorporating some of the fresh produce
that is ripe and ready in January. This includes such earth-borne
delights as persimmons, lemons and oranges, papaya, kale and
collards, and of course, those persistent sweet potatoes. Click here
for the recipes...

The Sweet Fruits Controversy... Fruit or No Fruit
In the past, I consumed a good quantity of sweet fruits. Half a
watermelon and 5-7 peaches was a typical day. And I achieved great
results. It works. On the other hand, I heard from other authors
how great it is to live with no sweet fruits at all. For several
years I've been wanting to try this approach myself. Continue
reading Sweet Fruits Controversy...

Discover Persimmons (With Recipes!)
Aside from cranberries, citrus and pomegranates, winter's hardly
the time we associate with feasting on delicious fresh fruit.
Imagine my delight, then, when this fall I discovered my newest
passion: persimmons. The fuzzy type. Yes, I'd heard of them before.
But not till this year did I actually try one. Continue reading Persimmons...

Eastern Medicine and Raw Foods
One of my yoga instructors is an avid student of Ayurvedic
medicine. She'll often come to class with a story about a family
member coming down with a sore throat, a fever, a stomach ailment,
and how she cured it using Ayurvedic medicine. Ayurveda is the
earliest school of medicine known to humans. Continue reading Eastern
Medicine...
Beauty Tip: Make Your Own Cleanser and Toner in 2 minutes!
Many who use my natural health and beauty products are longtime
customers. "I love your cream so much," some have said, asking, "Do
you have a cleanser yet? When are you going to come out with a
toner?"

We have just finished launching our newest exciting formula, the
Your Right to Be Beautiful Bentonite Oral Balm with White Oak Bark
and Wheatgrass. How did I get into manufacturing natural tooth
balm? Simple: I had needs and wants for which no product on the
market was coming close to meeting. Putting together
formulas--formulas that perform to my exacting standards, is in
every way a painstaking process. It requires research, and endless
trial and error, all of which takes me away from my passions:
writing and speaking.

I don't invent products gratuitously--only formulas for which I feel
there is a specific need. I also believe in keeping my beauty
routine as simple as possible, relying on as few products as
possible. Consequently, I have no interest in producing a cleanser
or toner. Why?

Because you can easily make your own cleanser. No need for training
in herbs, botany or alchemy. And, no, it doesn't take any time at
all--other than throwing a few ingredients into a spray bottle. You
will see how quick, inexpensive, and delightfully effective your
cleanser can be after just a short time using it consistently. Your
cleanser will nicely complement your current beauty routine.

To get you started, here's a recipe for a basic cleanser I've used
with great success for makeup removal...

Basic Cleanser:
1 cup water
2 Tablespoons of your favorite all-natural, pure liquid soap, from
the health food store (if you have sensitive skin, Castille brand
may be helpful, but see this article)
2 Tablespoons of Your Right to Be Beautiful Facial Cream or your
favorite moisturizer
a few drops of your favorite essential oil, such as lavender oil
(or carrot seed oil if you have dry skin)
 
Mix together in a simple pump dispenser. Shake vigorously a few
times before each use. Leave it on your bathroom countertop--no need
to refrigerate!  

Balancing Toner:
1 cup water
2 Tablespoons organic apple cider vinegar
2 Tablespoons fresh aloe vera gel or juice
 
Shake together in a glass bottle and apply with a cotton ball after
cleansing. Do refrigerate this formula.

Formulas work differently on different skin types. Try this formula
on a patch of your skin first to be sure the concentration of apple
cider vinegar is not too strong for you. The great thing about
making your own cleanser and toner--you're in charge. You can
customize the ingredients to fit your own individual needs. If you
find a formula too strong, you can simply dilute it. If it's too
weak, you can boost its effectiveness by increasing or adding
ingredients suited to your own needs.

Start with these formulas. If you find you have a penchant for
making your own cleansers and toners, branch out and explore more
of your own unique and creative raw recipes. You will also find a
plethora of delightful beauty concoctions in the newest ebook by
Shakaya Leone entitled Naked Beauty.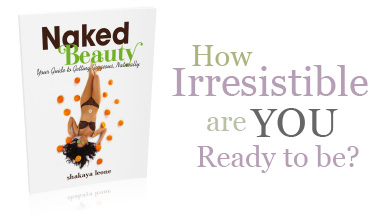 Shakaya's years of researching natural beauty methods have resulted in a lovely
compilation of raw beauty tips, inspiration and recipes for several
all-natural, tried-and-true formulas.

And the Winners Are...
As some of you already know, our Reader Appreciation Contest is
well underway. Every month, three winners are chosen at random
whose names and partial email addresses will appear in the
newsletter. They will be eligible to claim their prizes by sending
their full names and shipping addresses to info@beautifulonraw.com
 
And...the plot thickens! If any of these winners do not step up to
claim their prizes by the time the next newsletter goes out, those
3 prizes will go back into the 'prize pool.' This month there are
SIX prizes for SIX new email recipients.  Looks like three people
had their minds on other things last time!

You've all experienced it...you face a problem, a dilemma, and the
answer comes in the most unexpected way! A few times, an answer has
come to me in an email I overlooked because I had my mind on other
things. Be sure to read your newsletter carefully. Not only might
you receive an answer to a question that's been bugging you--whether
about health and beauty or about something else--but I'd hate for
you to miss out on the fun and the prizes!

If you are one of this month's winners, choose one item from the
following three to receive absolutely free:
a jar of our Anti-aging Facial Cream, a jar of the Green Clay
Masque or a physical copy of Quantum Eating. If you are one of the
three winners, email us at info@beautifulonraw.com with your full
name and preferred shipping address.

This month, our winners are:

Name           Partial Email              Date Joined Our List
Mickey        mre....@gmail            joined 6/29/2007
Katerina       kat....@aol                joined 2/2/2006
Susan           sus.......@hotmail       joined 1/05/2007
Jennifer        pen...........@aol         joined 1/16/2008
Linda           dic......@gulftel           joined 3/8/2008
Kay             kni....@yahoo             joined 1/3/2011

Congratulations!

May you enjoy a Rawsome Life and reveal your Rawsome Beauty.

Best wishes for your success!
Tonya Zavasta
www.BeautifulOnRaw.com

To ask a question about the raw food diet or to give a testimonial,
please send an email to our research assistant Kelli at
info@beautifulonraw.com.
Please direct any orders related questions to
OrdersBRPublishing@gmail.com