A Natural Solution for Every Problem
I receive many emails asking my opinion on this or that cosmetic surgery. I must confess, I'll always try to talk you out of it. I am a ceaseless searcher for ever-expanding levels of health, fitness and anti-aging...naturally.

Am I biased?  Yes. Big time.

Those of you who've followed my work know I had to have eleven surgeries on my hips so I could walk. Orthopedic science has earned my gratitude. But, frankly, I feel I've had enough surgical intervention.  I may even harbor, I daresay, a bit of doctor-phobia. Like a claustrophobic doesn't go into small closed spaces, so I stay away from doctors.

I had, however, one, in fact, two areas on my body where a cosmetic procedure might have been be justified. The surgeries on my hips did help my walking. But those same surgeries left my hips looking like the pitted remnant excavations of an ancient archaeological site. Those high-leg swimsuits--you know the ones: cut up to here--don't help. Beaches, for me, have been darned uncomfortable places to be.

Anyone who's had any kind of defect or perceived defect knows how that feels. You think everyone is looking at your problem. Whether your blemish shows all the time, or only in certain settings, believe me: I do understand.

It is my belief that when we have a problem for which we need to find an answer, the answer already exists. The problem and the solution, I also believe, always come together in some way--one cannot exist without the other. We just have to be observant, and a solution will present itself. 

Several years ago, a lady who organized an event for me on the East Coast, recommended I try a procedure called myofascial release. She even offered a therapist who was willing to give me a free session. I brushed it off. Not for me, I decided, without even trying. (Memo to myself: Was there a small part of me that perversely wanted there to be no solution, no hope?) Little did I know that three years later I would come back full circle to that very thing and discover that one of the answers had already been handed over to me. I just wasn't listening the first time.

I've learned that myofascial release as a solution for scars can be very effective indeed. At first, I tried the method but without really believing in the possibility of success. After all, I said to myself, what could a pair of hands do for fleshly deformities as severe as mine?  Something, however, led me to press on. Now, several months later, the results are astounding. While my hip area is hardly flawless, but the--there is no other word for it--offensiveness, the ugliness around the sites of my surgeries is gone! I am ready for beach season!

Just two hands and a lot of persistence were able to even up,smooth, and practically reshape a rough scarred surface resulting from multiple surgeries.  This account strengthened what was already my strong conviction in the amazing powers of "natural" methods. Now I am sure that even some of the most "impossible" issues can be resolved "naturally." Give a hand to your body and it will cooperate in restoring or creating health, symmetry and harmony.
 
When I first came to see Donna, my myofascial release specialist, she asked to trade with me: she will take away all my scars, if only she could have my skin in return. Not a good trade, honey! It's much easier, I told Donna, as I'm also telling you, to acquire healthy skin on your own...if you're willing to do the work. And you can do it yourself!

Whatever you do or don't do for your skin does make a difference.
Wrinkles are Optional: How to Make Your Skin Glow in 30 Seconds/Day

What is the first thing that comes to mind when thinking about aging?  Wrinkles. What I'm about to tell you may register as a bit of a shock, but it's true. Wrinkles...or no wrinkles...it's entirely in your hands. You can see wrinkles in some folks under forty. And I know women in their eighties who don't have them. It has nothing to do with genetics--the unwrinkled are often just those who care about their faces!

Cosmetic surgeons do us a great disservice when they say that moving facial muscles leads to more wrinkles. They scare patients into thinking facial exercises are the worst thing they can do. The truth: Facial exercises can reshape and refresh your face.

Another facial technique:  Consistent, dedicated dry brushing, removing old cells and stimulating new cell growth, can "brush off" blemishes. Physical manipulation of the skin and its underlying tissues has a rejuvenating effect on the whole area. A massage for the face makes as much sense as a massage for the body.
See my Blog article:
Facial Skin: How Different Is It from the Rest of the Body?

Learn how to dry brush your skin in this short video: From Dry Skin to Glowing Complexion. You'll learn how to make your skin glow in just thirty seconds a day.



This Month's Special: FREE Jar of our Anti-Aging Facial Cream!
You may already have noticed that this newsletter is dedicated to facial skin care.  Our Beauty Bundle has everything you need to get the most beautiful skin. Your age is not a deciding factor, your level of dedication IS! The Beauty Bundle includes my Rawsome Flex book FREE. With every Beauty Bundle or ANY order of $100 or more you will receive a FREE jar of our anti-aging Facial Cream with Sea Buckthorn oil. But you need to act now. This deal will last only for the next 48 hours!

It is ideal to apply this cream right after your dry brushing session. It also has the best consistency (light and airy) to be used for knuckle massage.

Remember: to have wrinkles or not is up to you! In 1997 I made a decision that I will not have wrinkles. Today, at 53, I don't have them and I am determined to keep it this way no matter what my chronological age would be. You can begin to take care of your skin now, or you can wait. It's your decision. You can ignore my advice...you can file it away for later...you can spin your wheels in disagreement...or you can try it now!

FREE Raw Recipes and New Blog Articles!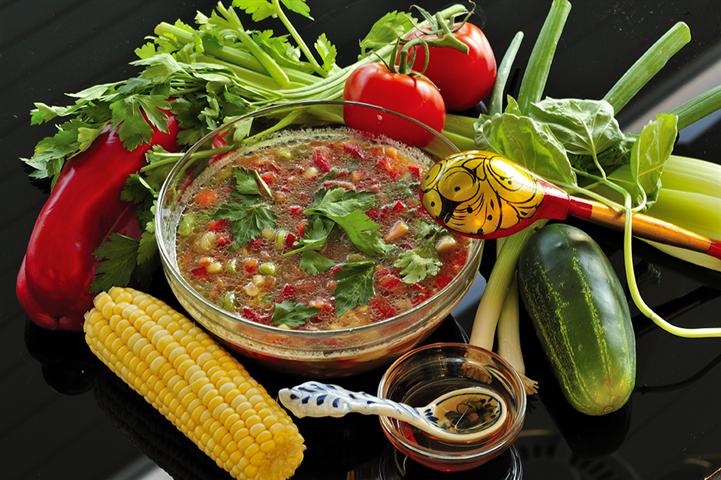 Recipe of the Month!

Raw Gazpacho Soup
This cool soup is my favorite in the Summer. It's excellent if you are living in a particularly hot and humid area!





Ingredients:
2 cups fresh tomato juice
1 cup cucumber juice
1/2 cup celery juice
juice of 1 lemon

Collect all above juices in a bowl, then add:

1 cup red bell pepper, diced
1 medium cucumber, diced
3 scallions, minced
2 cups tomatoes, freshly diced
1 cup fresh corn kernels (cut them right off the cob)
1 Tablespoon raw honey
Celtic sea salt and cayenne pepper to taste
1 Tablespoon cold-pressed olive oil (optional)
The other June Raw Recipes are available here...

Facial Skin: How Different is it from the Rest of the Body?
Some argue against facial massage, facial exercise and especially against dry-brushing, on the ground that facial skin is extra-sensitive. A better way to state the truth: Facial skin is different. Check it out: Under a microscope, you'll see the cells making up the top layer of the face are generally smaller than skin cells. Continue reading Facial Skin...

Raw Foods as a Lifestyle: It Ain't Just Eatin'
It's been many years since I took the first few tentative steps on my raw food journey. Since then, I've experienced one exciting transformation after another, both physically and mentally. My health, looks and state of mind have continuously improved over the years. Just when I thought things couldn't possibly get better, they did! I firmly believe this is because I took special care early on to transition slowly to raw foods, and to incorporate all of the lifestyle practices so essential for creating genuine, lasting health. Continue reading Raw Lifestyle...

This Month's Reader Appreciation Contest Winners!
This month, we have 3 new winners of our Customer Appreciation
Raffle!

Every month, we choose three winners at random whose names and partial email addresses will appear in the newsletter. If you are one of this month's winners, choose one item from the following three to receive absolutely FREE:

---our Shampoo & Conditioner Set

---a jar of the New Oral Balm, or

---a physical copy of Rawsome Flex


If you are one of the winners, email us at ordersBRPublishing@gmail.com with your full name and email, choice of prize, and preferred shipping address before the July newsletter is sent out!

This month, our winners are:

Name         Partial Email                 Date Added to List

Janett         jane.......@clearwire    01/30/07
Evelyn        eja......@yahoo            04/12/08

Lynn          ly...@northrock            12/18/10

Congratulations!
........................................................................................
May you enjoy a Rawsome Life and reveal your Rawsome Beauty.

Natural Lifestyle website owners and bloggers! Don't forget we offer an Affiliate Program. Click here for more info...

Best wishes for your success!
Tonya Zavasta
www.BeautifulOnRaw.com
BR Publishing LLC

To ask a question about the raw food diet or to give a testimonial, please send an email to our research assistant Kelli at: info@beautifulonraw.com.

Please direct any orders related questions to: OrdersBRPublishing@gmail.com