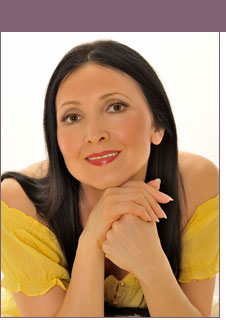 Newsletter From BeautifulOnRaw, Thanksgiving 2011
Thanksgiving Message...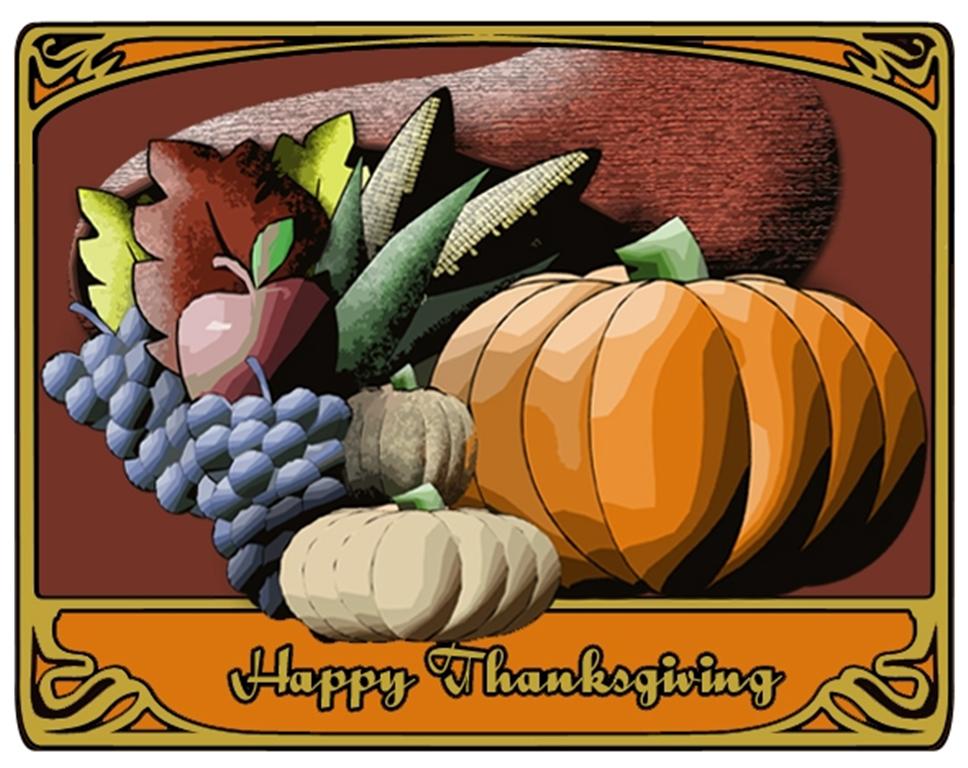 Holiday Season...

Thanksgiving...Christmas dinner at Mom's...New Year's Eve...parties, socials, get-togethers at the office or club meetings...dining out, or in, with friends.

All that food! Tons of it, and it's feel-good food, too. You know the question I'm going to pose on your behalf: Should I indulge?

The rationalizations we've all used: Well, it's just one...It's not gonna kill me...After all, it's Thanksgiving...It would be rude not to...

It's true. That one slice of turkey, just a nibble of cranberry sauce, that weeeee bit of chocolate, against the background of an honestly observed raw food diet, plus exercise, won't kill you. (It might make you sick, however!).

Still, Don't do it. It is not worth it. I hear it all the time: this one-time indulgence starts an uncontrollable downfall from the proverbial raw food wagon.

Call me a killjoy if you must. I'll stand on this ground for the sake of Thanksgiving--the very idea of giving thanks, being grateful.

If you've been observing a raw food diet/lifestyle for a while, even just working toward it, improving an otherwise conventional diet, then you have a lot to be grateful for. You've likely shedded some excess weight, feel more energetic, don't get the seasonal colds you used to. People probably say, Gee, you're looking good...You feel better about yourself. Brighter. Happier. More optimistic.

This holiday season you will either take a step forward or a step back. You will make one of those two choices, consciously or not. There's no neutral ground, no holding still. You will either surge forward, or you will lose ground, psychologically. What's more, during this season, you'll do that--either way--several times.

Nice people, your friends and family, but they won't be much help. Oh, you MUST have some of Ellen's pumpkin pie...And uncle Marty will make those annoyingly patronizing comments of his about your "silage diet," as he makes that gravy lake in his buttery mashed potatoes.

Just love them back! You can love and be with and enjoy your family and friends without eating what they eat. The fact is they secretly want what you have.

Don't give them the pyrrhic victory they think they want--you, that is, eating "normally" again. Give them the beginning of the victory they need. Give them, instead, the victory of your own example.

Resolve, this Thanksgiving, this entire holiday season, to show real thanks, real gratitude for the ground you've gained. So many people have never been given such options, the knowledge of raw foods and to experience the profound benefits this diet brings. You're fortunate. Blessed. For that, be grateful! Stand firm!

Show it by saying the nicest, most genuine No, thanks you can. No preaching. (You do want to be invited back next year, don't you?) Just exercise gracious, quiet restraint. Do what you have to. Eat properly before you go to the event. Make your own raw food dish. Nibble what you can. Invent excuses, if you must. Go home hungry if you have to, or tell your quiet, modest truth, and be prepared to laugh with everyone else at your own expense.

Need some help? If you haven't yet, watch my video: Raw Food Rocks! It's especially designed for the holiday time, and for you.

Stay "clean" during the holiday season, and I'll promise you a new reward. When January comes around and you got through the season without cheating, you will feel a new pride, a new determination, and a new kind of gratitude. Do it, and I guarantee there will be so much more yet to come to be grateful for.

Raw foods will give you exceptional health. They will give you a more youthful appearance. Will bring you clear complexion, but that's not all...

In the upcoming year I'll introduce you to yet another glorious side of the raw food lifestyle that's never been explored before.

Happy Holidays!

Thanksgiving Super Special Deal!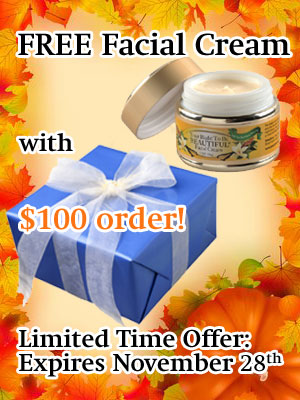 Most of my customers like our "new" cream, but some of you have asked me to bring back my "old" cream formulation. Wrote one email correspondent:
I like your new cream, but I really loved your "old" one. Please bring it back...
I'm fascinated by the reasons people give for wanting the "old" cream back. The new one's
too rich
, says one.
Not rich enough
, says the next. One thanks me for reducing that old vanilla scent, while another laments its reduction. What do I do?
It's not as if we entirely changed our cream's formula. For the most part, we simply increased the sea buckthorn oil concentration and added a little tapioca starch, creating a moisture block to protect the skin from drying.
I do believe in the old maxim
If it ain't broke, don't fix it
. But I'm a fiddler. I cannot stay with the same product, no matter how good it is, once I find something I think is even better. I have high standards for my own skin, and I'm always trying out new things. For that reason, I pass improvements on to you.
My dirty little secret is: I run a
small
business.
Really
small. Wal-Mart will not be picking up our products anytime soon. Strange as it may seem, I'm not looking for growth by any means possible.
Why? Because I don't work to please everyone. I work for you and, importantly, for me. Every product I make and offer on my website begins with me, and stays with me. Until, that is, I find something better. I don't think there's ever going to be a whole suite of creams, in different varieties, scents, intensities. Baskin-Robbins can have 31 flavors. I won't. (So, no, those of you waiting breathlessly for Fresh Apple, English Ivy, Tuscan Mist, or Chocolate Cherry Surprise will likely not be getting your wish.)
Instead, I am searching to create the BEST possible products for you. And, yes, for me--if I don't use it, I won't offer it to you. The raw food movement is my life
and
my passion. When it comes to beauty and health products, my game is constant improvement. Obvious reason:
you
and
I
are getting chronologically "older," and I prefer always to stay ahead of this formidable opponent, called aging.
Know, too, that my approach to facial products is
different
from those you'll see from cosmetic companies. You will receive from me no hyped "miracle in a jar," be it a cream or a masque.
The miracle you want
is
right there, awaiting you: It lies in raw foods. If you have skin breakouts, do not expect some cream to fix it for you. These, like all disease and illness, are symptoms of
internal
issues and must be addressed
from the inside
. I do not believe in relieving symptoms--I prefer
eradicating
their causes. If you have skin issues, you'll do better starting with
my books
than with my products.
Excluding the offending foods from your diet while beginning daily juicing are the surest ways to a clear complexion. My beauty products are enhancing--not curative. Just a bonus, if you will, to make your skin exceptional.
While developing my beauty products, the best and closest standard I have is whether and how well a product works for me. So I'm telling it to you straight. The products are just the way
I
like them. If you happen to like them too...great! Then you, too, can benefit from my experience and research. If you don't like them, and choose to buy your cosmetics elsewhere, that's perfectly okay, and we'll still be friends. 
If you are enjoying my products, I would like to say thank you for your continued support and offer a special deal for the holidays...
If your order subtotal (not including shipping) is $100 or more from my online Natural Beauty Store, no matter what you order, you will receive a
FREE jar of my Anti-Aging Facial Cream
--
that's an added value of $26.00!
Those of you who haven't tried our new version, here is your chance to go for it. Or perhaps you would like to get some helpful holiday gifts for yourself and for your friends and family.
Click here for this offer!
New Video: How to Get Rid of Deep Wrinkles...

And here is my present to you... On YouTube, take a look at my New Video: Botox Alternatives for Wrinkles...I am forever grateful to the person who taught me this beauty tip, and so I'm sharing it with you. It's my secret for how I keep wrinkles at bay. Here's one of those crazy-sounding beauty tips you'll laugh at...then you'll try it...and finally you'll start using it often... Watch Botox Alternatives for Wrinkles here...
Thanksgiving Reader Appreciation Raffle Winners Are...
For this Special Thanksgiving Newsletter, we have 3 NEW winners of our Reader Appreciation Raffle!

Each month we choose three winners at random whose names and partial email addresses will appear in the newsletter. For Thanksgiving we have 3 extra winners! Remember to check this section of the newsletter each month to see if you won! And the winners are:

Name               Partial Email                    Date Added to List
Aletha              ale.......@yahoo                01/26/06

Sally                drum.......@gmail              04/23/09

Janet                jjt.....@granite...               08/05/10


Congratulations!
If you are one of this month's winners, choose one item from the following three to receive
absolutely FREE
:
---a copy of Quantum Eating, 
---
Shampoo and Conditioner Set
,
or
---a bottle of the
Scalp Tonic
If you won, email us at ordersBRPublishing@gmail.com with your full name and email, choice of prize, and preferred shipping address before the December newsletter is sent out!
........................................................................................
Wholesale opportunities are available!
If you run a natural health/food store (online or brick and mortar), raw food retreat/classes, yoga studio, colon hydrotherapy center, chiropractic office, or a mercury/fluoride-free dental practice you may benefit from carrying our products. Email OrdersBRPublishing@gmail.com for details!

The Violet Ray is now available in USA (110V) and International (220V) versions for shipping anywhere in the world! Click here for more info.

To ask a question about our products or to give a testimonial, please send an email to our research assistant Kelli at: info@beautifulonraw.com.

Please direct any orders related questions to: OrdersBRPublishing@gmail.com
Before sending us your question, please check out our FAQs page. It's very likely you may find your answer there!


May you enjoy a Rawsome Life and reveal your Rawsome Beauty.
Best wishes for your success!
Tonya Zavasta
www.BeautifulOnRaw.com
BR Publishing LLC/dba Your Right to Be Beautiful®