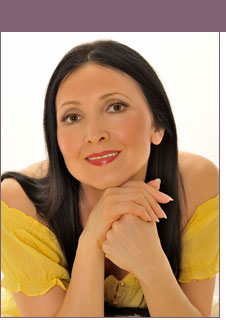 Newsletter From BeautifulOnRaw, August 2011
Two Faces...Two Lifestyles
Some time ago, a reader shared photos of two women, juxtaposed to convey the contrast between their diets and lifestyles and the effects each woman's choices had made on her looks.

The email said: I'd like to hear your opinion.....Don't say that just genetics are at play here.  For someone pursuing such a healthy lifestyle, the first woman should look much, much better. I have seen this in other health gurus as well...

As I don't have releases, I'm showing both photos with the faces partially blacked out to block identification. The first picture's caption read: "the woman is 51 years of age, a TV health guru who advocates a holistic, natural diet--pescatarian, with lots of organic fruits and vegetables." The second woman, also about 50, is a "TV cook who eats meat, butter and lots of desserts."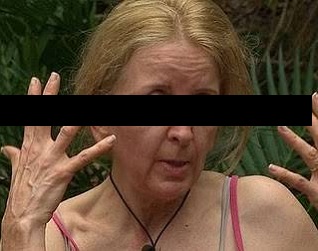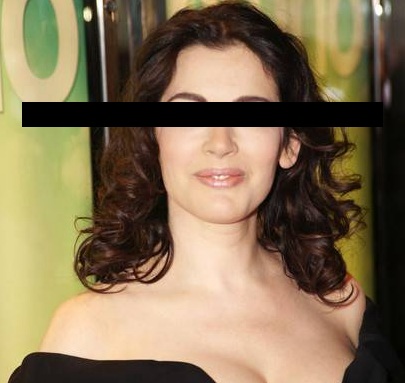 You may have heard the expression: Beauty is as beauty does. My own particular take: Beauty is as beauty eats. I have written extensively that beauty comes "from within", that what we eat is reflected in our outward appearance. These two pictures would seem to contradict that message. But not so fast!

Comparing one individual to another is ultimately unfair. If we are truly interested in the effects of diet, the only legitimate pictures are "before" and "after" views of the same individual. But if I stopped there, you might accuse me of avoiding the question.   

In my book Your Right to Be Beautiful, I wrote: "Each time I see a woman, I see not only the way she looks, but also the way she could look. What I perceive is how far her image diverges from her potential beauty." Let's get a clearer view...

The first woman is pictured at her worst--a candid, un-posed shot, without makeup, in glaring daylight. The second woman gets a huge break--she is posing for a professional photographer, in managed light, aided by a team of professional makeup artists and hairstylists, and quite possibly cosmetic procedures.

But that can't be all there is to it. What's likely the main culprit behind the first woman's unsightly photo? Skin care! It makes a vast difference. After forty, skin care becomes mandatory if we want to look our best. Its value mustn't be underestimated.

Some women don't believe in skin care per se. In an effort to live free from chemicals or "unnatural" methods, they will let "the natural look" descend to outright neglect.

That said, I do not believe the first woman looks "unhealthy." I see in her photo no puffiness, no eye bags nor other signs of internal organ overload. I see nothing about her appearance that couldn't be corrected with a good daily regimen of skin care and facial exercises. If I had my way with her, she would be "glowing" in no time.

A candid shot...and a glamour shot...and of two different women. Not only is it an unfair comparison, it's neither apt nor informative.

These photos, considered together, do teach us a lesson, however: Please, don't compare yourself to anyone else. The verdict will likely be unkind. And it may well prove disconcerting, demotivating.

Often people come to the raw food lifestyle because they have health problems. The body takes care of the inside first. Often the body lacks the vitality to give immediate positive results on the outside--especially if it's fighting disease and accumulated toxicity - although with time and persistence, genuine health and beauty will reveal themselves.

We must consider each individual case and adjust our expectations accordingly. It's your health, your development that matters. It's not about how you look as contrasted with others, but it is, simply, all about you.

Just as I finished penning this article, I received an email from Sarah Best, the illustrious editor of Get Fresh! Magazine. She wrote that recently in the mainstream media, the following statements have been frequently made by various over 40 celebrities:  "losing weight will age you," and "post 40, we simply can't have the face and the body," along with the view that being fat provides us with a great "cosmetic filler." One of these commenters was the second woman pictured above! Talk about synchronicity. So Sarah wondered if I have something to say on this topic: Is it really true that women have to choose between their faces and their figures after 40?

Sure, I had quite a few ideas, so I wrote an article that begins like this: "I'm reminded of a common motif in Russian fairy tales. A knight comes to a fork in the road, where stands a pillar. The writing on the pillar foretells what will happen, depending on which road he takes. The messages we receive - like the knight - don't always make the right choice any more clear." Read the whole article "Face or body" Can you have it both ways? on Sarah's new website: www.sarahbesthealth.com/.
What You Must Know About Cosmetic Labels!
There was a time when I believed in printed labels. But look what I've discovered: Looking for "Green" Organic Raw Cosmetics?

I'm all for honest competition. I have been telling you the truth to the best of my knowledge about raw foods and why I eat only fruits, vegetables, nuts and seeds in their unprocessed form and do not eat anything from a container.

And I will continue to tell you things as they are, no matter whether you favor my products or not.  So...if my cream is not raw, then is it still good? It is the best I was able to formulate. When we do use a preservative, we choose the one that does the work with the tiniest possible concentration.  

Why am I using the most potent oils I can find and the most effective formula I could possibly put together?  It's for one very simple pragmatic reason.  I am the biggest consumer of my own cosmetic products--every last one of them.  And staying healthy and looking good is important to me. In the same way that I don't eat cooked foods to avoid toxins, I'm also not going to introduce them into my body through the skin, and I want to know exactly what is in the skin products I'm using, so I insist on full disclosure. I want to know the truth, so I can decide, and decide on the basis of solid information, too.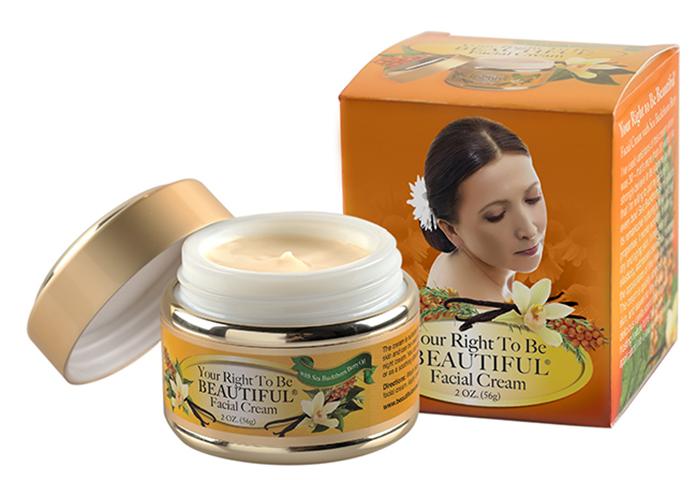 Even though the Anti-Aging Facial Cream has been our best-selling item for the past six years, we've now changed the formula slightly. One thing we did was to triple the concentration of Sea Buckthorn Oil. Why? Because I am getting "chronologically" older and I do notice that keeping the skin youthful and glowing requires more effort and more help. So I began experimenting with higher concentrations of this amazing ingredient. And I found that our new formula with three times more Sea Buckthorn oil gives more protection against aging.

What's so good about this oil? The Sea Buckthorn plant is native to mountainous regions in Siberia. The extract of its berries has been used for centuries in Asia, Russia, and Scandinavia, where it has been prized for its restorative properties. People find that it aids in the healing of skin damage from radiation or the sun, acne, skin ulcers, burns, irritated or dry itchy skin, eczema, psoriasis, dermatitis, and wounds. Its nourishing, revitalizing, and restorative action seem to have no limits.

Sea Buckthorn's red and yellow berries offer several essential vitamins that are usually only found individually. The berries contain a high percentage of Vitamins C, E, and beta-carotene (pro vitamin A). The vitamin C content is among the highest for any plant. Combined, these powerful antioxidants function as part of the body's natural defense system, combating wrinkles, dryness, and other symptoms of aging or neglected skin.

I am now using this improved version of the Facial Cream, and we'll no longer produce the original formula. My inviolable rule: I will not offer you anything I am not using personally. The good news for you--even though Sea Buckthorn oil is one of the most expensive oils there is, there will be no increase in price.

How many cosmetic products manufacturers, cosmetic company owners, cosmetologists, or dermatologists place their own pictures on their creations? No one I know! My complexion is my proof. By displaying my own photo on my products, I keep myself continuously challenged. I'm over 50--but don't look it! Exceptional results for me...exceptional results for you. To get the most out of our moisturizer, incorporate facial dry brushing along with the Facial Cream by taking advantage of our Cream Special.
Special of the Month: 48 hours Only! Rawsome Flex at $5 off!
I received this email a few days ago, and it made me very happy:

Hi Tonya, just a quick note to say that I've been using the face exercises, exactly as you said to, and today is the 4th day, and I'm 46 1/2 years old. I cannot believe it, but frown lines that I had developed between my eyebrows in the last year and half are literally GONE!

Also, my nose is lifted and my eyes are open more. In only FOUR DAYS! Also, what you say about not eating the evening meal is so right on. I'm a holistic healthcare professional and medical intuitive and tell my clients all the time if they would just eat little or nothing for dinner, and get to sleep by 10 p.m., that would eliminate most health problems. I don't do this myself-yet-but your reminder is inspiration for me to start now! -T.M.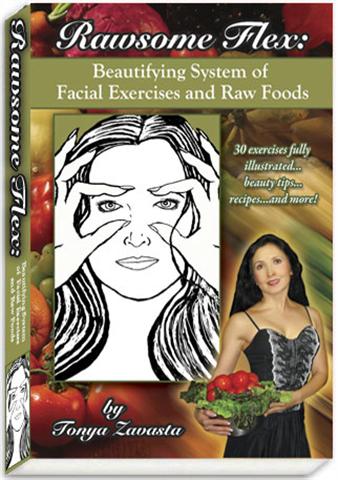 For those of my readers who have not yet taken the plunge into the exciting world of facial exercises, I have a special deal to offer you for the next 48 hours only! If you buy a physical copy of my Rawsome Flex: Beautifying System of Facial Exercises and Raw Foods, you will be able to receive it for only $20.00 instead of the regular $25.00!

You must place the order in my online Natural Beauty Store before midnight Friday August 5th (U.S. Eastern Daylight Savings Time). The price will revert back to $25 at that time. This book contains fully illustrated descriptions of 30 facial exercises with additional beauty tips, recipes and more!

You can instead take advantage of the Beauty Bundle, which contains many of my beauty products, including the new Facial Cream and also a copy of Rawsome Flex.
FREE Raw Food Recipes and New Blog Articles!
August is ripe with delicious fresh produce to help you beat the heat. Fruit is abundant this month with stone fruits such as peaches, apricots and nectarines as well as raspberries, and of course, watermelon. You will also find fresh basil and a rainbow medley of bell peppers begging to be used in your raw creations.
Recipe of the Month
Easy Nori Rolls
This recipe is adapted from my Beautiful on Raw: unCooked Creations. This easy version of the "sushi" rolls can be made very quickly and doesn't even require a food processor.


This Easy Nori Rolls recipe and all the other August Rawsome recipes are available here!

July 2011 Raw Food and Hot Yoga Testimonials
I just began using the cream with the facial brush two days ago and can already see and feel the difference! This is a first and I've used so many different creams in my 54 years. My face has not been this smooth since I was a child. Last night when I went to bed my husband even noticed how good my skin smelled. I recognize the vanilla and he said that he is a fan. Thanks so much! Although I'm weaning myself off cooked foods and not 100% yet, I'm loving my raw diet evolution. I can't wait to share progress pictures as I transform my life. Thanks so much! -R.W.... Continue reading the testimonials...

Looking for Raw Organic "Green" Cosmetics? You Must Read This...
During the last eight years I have learned a great deal about cosmetics, how they're made, and what's possible and impossible, quite apart from the marketing claims. The catalogue of misleading messages employed by manufacturers, advertisers and labelers is a vast and fascinating one. Let's look at a few... Continue reading Raw Cosmetics...

And this Month's Raffle Winners Are...
This month, we again have 3 new winners of our Customer Appreciation Raffle!

Every month, we choose three winners at random whose names and partial email addresses will appear in the newsletter. This month, our winners are:

Name               Partial Email                    Date Added to List
Linda                mck........@bigpond         08/13/07
Florence           flo....@yahoo                   04/23/09
Suzanne           aus...........@hotmail          12/12/10         

Congratulations!
If you are one of this month's winners, choose one item from the following three to receive
absolutely FREE
:
---a jar of the new and improved Facial Cream

---a jar of the Bentonite Oral Balm, or

---a physical copy of Raw Food and Hot Yoga


If you are one of the winners, email us at ordersBRPublishing@gmail.com with your full name and email, choice of prize, and preferred shipping address before the September newsletter is sent out!
........................................................................................
Wholesale opportunities are available!
If you run a natural health/food store (online or brick and mortar), Yoga studio, or Chiropractic office, you may benefit from carrying our products. Email OrdersBRPublishing@gmail.com for details!

To ask a question about the raw food diet or to give a testimonial, please send an email to our research assistant Kelli at: info@beautifulonraw.com.

Please direct any orders related questions to: OrdersBRPublishing@gmail.com
Before sending us your question, please check out our FAQs page. It's very likely you will find your answer there!


May you enjoy a Rawsome Life and reveal your Rawsome Beauty.
Best wishes for your success!
Tonya Zavasta
www.BeautifulOnRaw.com
BR Publishing LLC/dba Your Right to Be Beautiful®