I hope that if you're in the Bay Area, you're staying cool. Word is that thanks to climate change, we can expect a lot more extreme weather this summer.
I'm over the moon that Juneteenth has been declared a federal holiday. It means a lot to those of us who are African Americans, but it should mean a lot to people of all races, creeds and colors because it is a celebration of freedom. Freedom is always something to be celebrated and cherished.
Happy Juneteenth!
BOOKS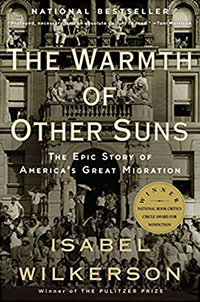 Last week, I recommended Isabel Wilkerson's new book CASTE, about the history of racism and the caste system here in America.
This week I read her first book, THE WARMTH OF OTHER SUNS, about the great migration of African Americans from the Jim Crow south to the north and the east and west coasts between 1913 and 1970.
It's a fascinating story that everyone should read (yet more history we weren't taught in school). Especially people of color who were born outside of the south and grew up with the opportunities that were available in northern, western and eastern states.
My great grandfather was a sharecropper in Jim Crow Birmingham when, in 1945, he backed up his whole extended family, including my then three year old mother, and moved north to Akron, Ohio where I was born. At the time, Akron was known as the rubber capital of the world because of its main employers, the Goodyear and Goodrich factories. There were jobs galore for those who wanted them. My great granddad and his children grabbed the opportunity to work for them.
Were it not for that move, I probably wouldn't be here. Most Blacks born and raised outside of the south can say the same thing.
Ms. Wilkerson's research is meticulously detailed and her writing is almost lyrical.
READ THE BOOK. You won't be sorry.
SHOWS
On Saturday at 7:30 PM Pacific Time, I'll be celebrating the first Juneteenth federal holiday by performing a Zoom performance of my show NOT A GENUINE BLACK MAN. You can watch the play in the privacy of your own home!
Visit TheMarsh.org for more information.
BEST OF SAN FRANCISCO SOLO SERIES
If you are a subscriber to my solo series, I am currently in talks with library officials about dates when we can restart.
I'm still awaiting date confirmation and will let you know as soon as I get them.
In the meantime please put 9/25 and NYE on your calendar. Live comedy concerts at the Performing Arts Center are coming back in the fall!
PODCAST
For the last year I've been doing a weekly podcast on the news of the week called COPELAND'S CORNER. Each week a panel of comics join me in dissecting what's going in the country and the world. It drops every Friday.
Among topics this week: a 20 year old loses 800k in the stock market using the Robinhood app and then takes his own life. His parents are suing.
Is the app to blame?
Listen for free here.
Stay safe. The state is open, but the pandemic isn't over yet.
Be well,
Copie
FOLLOW BRIAN:
Twitter: Twitter.com/briancopie
Facebook: facebook.com/briancopie1
BrianCopeland.com