Happy Weekend!
I hope that it's been a good week and that you're happy and healthy.
I'm a little too healthy! Working like a dog to take off these Covid pounds. Am I alone?
Tried something new this week and committed to intermittent fasting to take off this last 15 pounds I need to ditch. The way that it works is that I only eat between noon and 8 PM. I try to keep my caloric intake at around 1800. It's working! I lost three pounds this week.
Give it a try. Pick an 8 hour "eating window" that works for your schedule and lifestyle and stick to it. Let me know how it works for you.
I found an app that's been helpful called DoFasting. It's available for a nominal fee at the Apple App Store.
Been slammed this week with writing projects but I have a couple of things to recommend…
BOOKS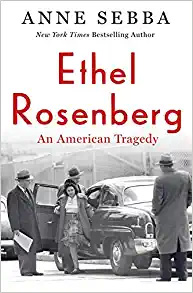 This week I'm reading the new biography of Ethel Rosenberg, ETHEL ROSENBERG: AN AMERICAN TRAGEDY by Anne Sebba.
As you know doubt know (because they DID actually teach us this in school), in 1953, Julius and Ethel Rosenberg were executed by the US government for allegedly passing atomic secrets to the Soviets. For decades, there was debate about whether or not they were in fact spies. When the Soviet Union collapsed and some KGB records were made public in the west, it turned out that Julius was indeed spying for the Russians, but Ethel was just a wife and mother who had nothing to do with it.
Her life was used as a bargaining chip to get Julius to confess. He didn't and they both died.
It's a fascinating story and a well written bio about one of the innocent victims of the 50s "Red Hunt".
READ.
PODCASTS
I've been listening to the latest season of the excellent YOU MUST REMEMBER THIS podcast by film journalist Karina Longworth. It's dedicated to stories about Hollywood's first one hundred years.
This season is called GOSSIP GIRLS and it's all about gossip mavens Louella Parsons and Hedda Hopper. The multipart tale is one of those "driveway listens" where you're so into the story when you're driving, that you don't want to turn it off when you arrive at your destination.
It's GREAT—check it out wherever you get your podcasts.
For the last year I've been doing a weekly podcast on the news of the week called COPELAND'S CORNER. Each week a panel of comics join me in dissecting what's going in the country and the world. It drops every Friday.
Listen for free on Spotify, iTunes or the KGO radio podcast.
I'll check you out next week.
Until then, be well!
Copie
FOLLOW BRIAN:
Twitter: Twitter.com/briancopie
Facebook: facebook.com/briancopie1
BrianCopeland.com