Something to Agree on
Published: Tue, 06/06/23
Dear History Lover,
Looking beyond mainstream media, we recognize that society  provides countless opportunities to enjoy our commonalities rather than dispute our differences. In honor of the spring holidays that nearly everyone celebrates, we step back to recount the history of Mother's and Father's Days. The contemporary, capitalistic culture of commemorating parents with flowers, candy, grilling accoutrements, and similar tokens is a recent metamorphosis of a tradition originally rooted in service. 
It is surprising that even the innocuous history of Mother's Day is tainted by a fight for credit by its originator. Commonly recognized as the "Mother" of Mother's Day is Anna Jarvis (pictured).
Organizing a letter writing campaign that was committed to fulfilling her mother's dream to honor matriarchs in the mid-19th century, Jarvis recounted a moment in 1876 when she heard her mother issue a prayer that someone would create a memorial day on which mothers would gather for a day of service to help those who were less fortunate than they and to implement best practices to ensure sanitation and health for their infant children.
Epidemic diseases, such as typhoid fever, often took the lives of children prior to their first birthdays, particularly in the West Appalachian region where the Jarvis Family lived. Of the thirteen children that the elder Jarvis bore, only four survived to adulthood. Therefore, the movement to commemorate mothers was catalyzed by a desire to educate and ensure the health and vitality of children born in the late-19th and early-20th centuries. 
When President Woodrow Wilson signed a proclamation, on May 9, 1914, stating that the second Sunday of May would mark "a public expression for our love and reverence for the mothers of our country," Anna Jarvis had succeeded in seeing through an objective that she set out to achieve five years earlier, when she sent 500 white carnations to her house of worship in Grafton, West Virginia in order to honor her mother (The church was later designated a National Historic Landmark in 1992 as the International Mothers' Day Shrine.). On the same day that she sent flowers, Jarvis held a celebration in Philadelphia, where she resided, which is commonly recognized as the nation's first celebration of the event. Although others are sometimes credited as instrumental in fostering the creation of the cause; for example, Julia Ward Howe originated a "Mother's Peace Day" as a response to the American Civil War, and it served an activist movement to ensure mothers' sons would not die in combat and war, Jarvis would come to resent the capitalistic transmutation of the holiday. She detested that florists and candy manufacturers reaped financial boon from an idea that was rarely attributed to its founder. There is irony in the fact that Anna Jarvis had no children of her own and likely sought a legacy that could not, alternatively, be engendered by her lack of progeny. Jarvis ultimately ended up impoverished and confined to a sanitarium. Upon her passing at the age of 84, on the 4th of November in 1948, she was buried next to her mother in West Laurel Hill Cemetery, in Bryn Mawr, PA.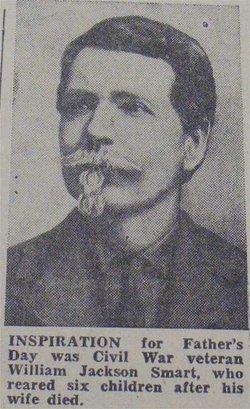 At nearly the same time as the tradition to honor Mothers was establishing international momentum, so too was a movement to honor Fathers undertaken by
Sonora Smart Dodd
.
Dodd's father, a Civil War veteran (pictured right), had reared her and her five siblings all on his own, following the death of their mother. Dodd suggested her father's birthday, June 5, as the commemorative date, but ministers opted for the third Sunday in June instead in order to give themselves more time to prepare sermons following the celebration of Mother's Day on the second Sunday of the preceding month. The first known Fathers' commemoration, on July 5, 1908, was a singular occasion to honor the lives of men who died in a mining accident in West Virginia, and by 1910 more formal events were celebrated with Sonora Smart Dodd delivering gifts to handicapped fathers. Other traditions included wearing flowers on the lapel. Boys from the YMCA marked the event with red roses for those Fathers who were living and white for those had passed. By 1916, President Wilson's family was celebrating the occasion and eight years later, President Coolidge signed a resolution to "establish more intimate relations between fathers and their children and to impress upon fathers the full measure of their obligations." In 1966, President Johnson, signed an executive order to celebrate on the third Sunday in June, and in 1972, President Nixon signed a Fathers' Day act into law. Sonora Smart Dodd lived to see each of these milestones. The founder of the movement passed away in 1978 at the age of 96. 
          We would love to read about your Fathers' and Mothers' Day traditions, and we invite you to reply with your favorite memories and/or ongoing traditions. One lucky submission will win complimentary access to an ON-DEMAND performance from our
archived performance repertoire
. 
          Finally, here's to my own father (pictured with me after a performance of
World War Women
™
in 2018), who has stalwartly supported
History At Play™, LLC
since its inception thirteen years ago.
A Happy Father's Day and (belated) Mother's Day to all our History Lovers.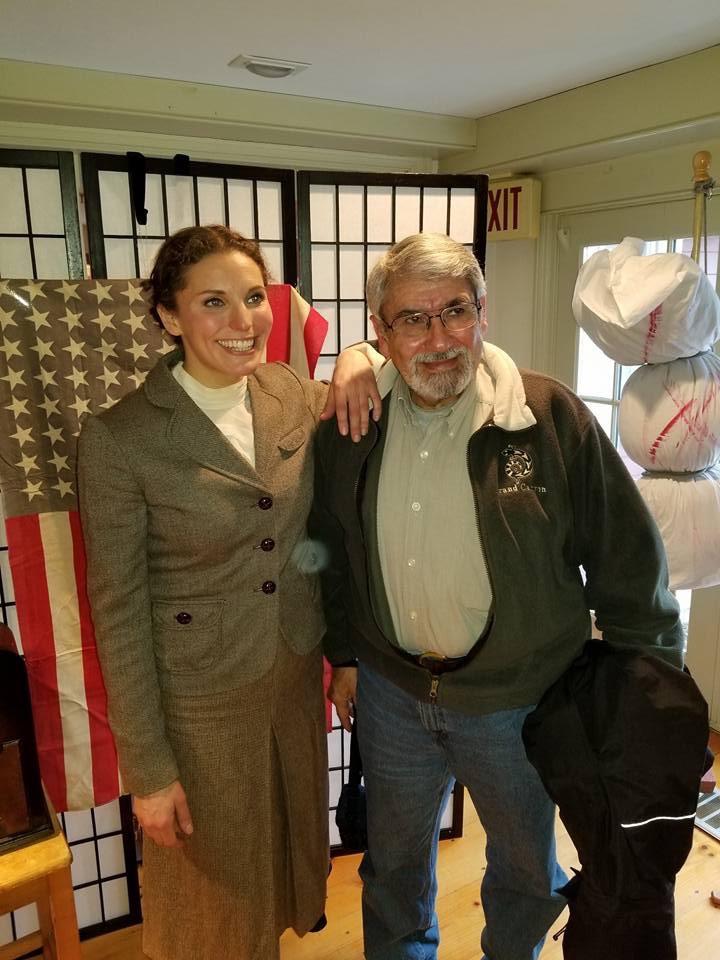 Historically yours,
Judith "Jude" Kalaora
This beautiful Declaration of Independence broadside poster, printed on fine laid paper, measures 34" x 22" and serves as a unique conversation starter or memento for any History Lover!
Purchase this gift for yourself, your father, or anyone with whom you would like to #MakeHistory! (Please Note: Orders made after June 8 will not be shipped until June 23.)
 
We would love to make more history this summer. We're offering 20% OFF bookings for the months of July and August 2023. 
Peruse our PROGRAM MANUAL and email, or call 617.752.2859 to book a reduced price performance or a mix and mingle event!
 For playbill/event information, click the performance title associated with each event. All times are Eastern Time (UTC-5). Clients may not have posted event details on their websites. 
This list reflects the most up-to-date schedule of PUBLIC events. All events are IN-PERSON unless indicated otherwise.
FRIDAY June 9, 2023
9:00am ET
This is a limited seating event.
You have received this message because you have signed up for our mailings; corresponded with History At Play™, LLC; purchased a ticket or attended a program; or registered for a conference at which History At Play™, LLC was a vendor/exhibitor.