Earth Energy Healing Newsletter #104 Linking the Crystalline and Human Heart Grids (8): Empowering the Divine Feminine
Published: Mon, 10/17/22
Earth Energy Healing Newsletter #104 
Linking the Crystalline and Human Heart Grids (8): Ceremony for the Earth and Empowering the Divine Feminine 
Dear Earth Healers,
There are times when my Earth healing work brings magic into my life. Recently I received an email from EEH member Pat in Pennsylvania saying that a piece of Karst Limestone on the Burren in Ireland had spoken to a friend, asking to be picked up and given to her. In 2010, the Burren became POL#123 in the 144 Elemental Points of Light grid, one of more than a dozen Karst locations in the grid. Pat went on to say in the email that when it arrived, the Limestone asked her to send it on to me. Upon arrival in Indiana I held it cupped in my hands and asked if it had a message for me (you can see it in the upper right in the second picture below). The message was for the next Karst-Quartzite-Upper-Mantle linkage with the human heart grid to focus on the November 8 gathering of 1,000 women on Mt. Sinai in conjunction with the COP27 Climate Summit in Sharm El-Sheikh on the Sinai peninsula. Last year the EEH Network connected with a gathering on Mount Schiehallion in Scotland in conjunction with COP26 (EEH Newsletter #102). Below is the grid that has formed connecting the Karst, Quartzite, Upper Mantle and Elemental Points of Light grids to Jabal Mousa/Mt. Sinai..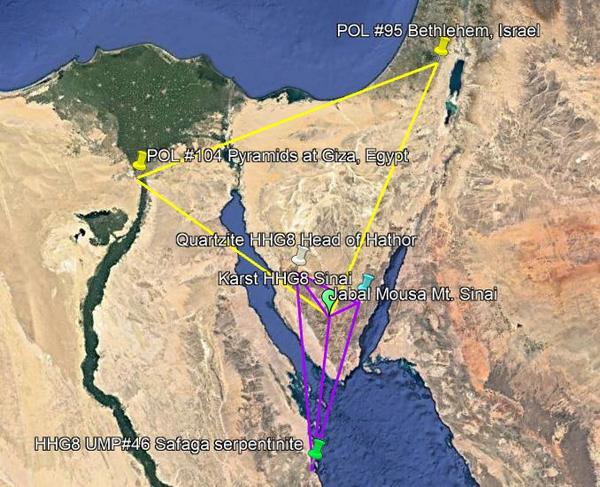 The three bedrock grids support the human heart grid and humanity's collective awakening in distinct ways. The Upper Mantle provides unifying support to all of humanity, Quartzite (fifth paragraph in link), supports the durability of the human spirit, and Karst Limestone (second paragraph in the link), supports the empowerment of the divine feminine for women collectively and within women and men individually.
Below is the mineral array on Windgather Mesa, surrounded by 18 crystal skulls, to support the gathering of women on Mt Sinai and the Climate summit 50 miles/80km to the southeast. In the upper left is Rose Quartzite from Gros Morne mountain in Newfoundland, upper right Limestone from the Burren in Ireland, and bottom center Peridotite from the Tablelands in Newfoundland.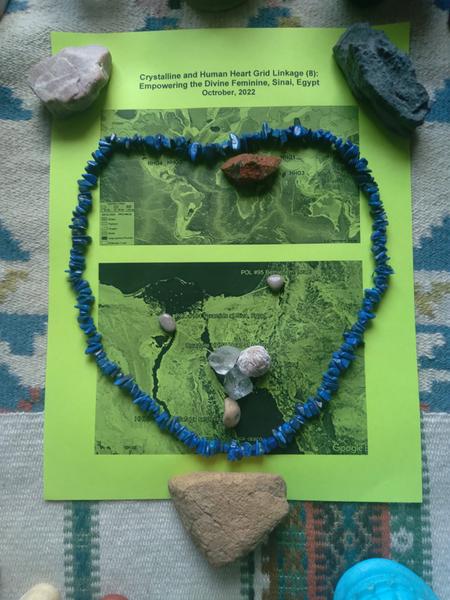 Up-to-date information about the gathering can be found on the
Sinai 22 Facebook Group
--
if you joined the 11:11 group last year, this is the same group, renamed. Supporting vigils around the Earth will be held starting 8 pm local time on November 8 to 10 am the next day. I will be holding vigil around a campfire at Windgather homestead in southcentral Indiana. As with the 11:11 vigil last year, I invite any members of the EEH Network to hold your own vigil and let me know so I can connect energetically at the appropriate time.
Blessings, Love and Light,
Russell