May 2023 Feng Shui Newsletter
Published: Fri, 04/28/23
Welcome

Your May Feng Shui Forecast

Mother's Day: Activate Your Prosperity Gua

Mercury Retrograde Through May 14

Prosperity Affirmation #91

Q&A Service

May Special

Prosperity Study Group

FLFE Free Trial

Testimonial

Please share this newsletter
as far as possible.

 
Hello,
We begin May with Mercury Retrograde and between eclipses. It's an active month, yet you may experience delays, slowdowns, and breakdowns. Be patient. Things will improve shortly after mid-month.
My house is getting a deep and complete spring cleaning. A recommended painter came along and fit us in, so the project has evolved and grown as we've gone along. We've turned everything inside out as most of the rooms and ceilings get re-painted. We've added more color and are loving it! It'll be a few more weeks before everything is put back together. It's a good reminder that change is a bit disruptive. Staying flexible makes it easier. Fortunately, we'll be done before the warmer weather and summer guests arrive.
This month, give your Wealth gua some attention. It's the back-left area of your house, every room, and your land. A deep spring clearing could be enough to get things moving in the right direction for you.
Mother's Day is May 14th. To strengthen your relationship with Mom or a mother in your life, clear clutter and re-energize your Partnership gua. This is the back-right corner of your space.
At the end of the month, Memorial Day weekend is our unofficial launch into summer! Get your inside spring cleaning completed by then so that you can enjoy more time outside in the coming months. 
If you enjoy looking at fun, innovative spaces, this Airbnb "Airship" might interest you.
Stay well and enjoy May!
Peg
May Feng Shui Forecast … Prosperity Gua
May 5: Full Moon and Lunar Eclipse
May 14: Mother's Day …Partnership Gua
May 19: New Moon in Taurus … Wealth Gua
May 15: Mercury goes Direct
May 29: Memorial Day
We begin May amidst eclipse season. There was a solar eclipse with the April 20th new moon and a lunar eclipse accompanies the May 5th full moon. Eclipses are periods of significant change and transformation. They happen in pairs. The May 5th lunar eclipse is at 14 degrees Scorpio, 58 minutes. If you have important planets 9 – 19 degrees Scorpio, this eclipse could affect you more than others.
This is a good time to do some introspection and self-reflection about your talents. If you are not expressing yourself to the fullest, you might gain insight about ways to do so. This is a good time to integrate new activities to help you develop your full potential.
Read More
       Mother's Day … 
Activate Your Partnership Gua 
 
Mother's Day is Sunday, May 7th. If you'd like to improve or strengthen your relationship with your mother or a mother in your life (stepmom, mother-in-law, etc.), freshen up your Partnership or Marriage gua. This is the back-right corner or your home and every room on your home.
The I Ching is the basis of the bagua. The Partnership gua is the area where the Earth trigram expresses itself. The Earth trigram represents "mother" in the mythical family within the feng shui bagua. Earth is yin energy, thus the connection with the feminine attributes and the relationship to mother … think "Mother Earth."
Read More
     Mercury Retrograde 
Through May 14th, 2023
Mercury went retrograde April 21st and continues through May 14, 2023, in the sign of Taurus.
This month, in particular, I'm hearing from many people who are doing just what we're doing … clearing things out and doing inside painting and renovations. It's a great use of this Mercury Retrograde cycle.
Read More
Q&A Service      
Are you curious about feng shui or how to bring your space into alignment with your goals and intentions? Do you have one or more questions you'd like answered without having a full consultation? If so, send your questions along and I'll answer them for you in either a written reply, a short recording or a 15-minute Zoom or Facetime call.
Send along your question(s) and supporting information such as a photo or a floor plan, if they would be helpful.
One question is $49.00, two questions are $80.00 and three questions are $99.00. I'll send an invoice for online (or other) payment. If a particular cure or adjustment is required, you may be asked to send along red envelopes as well. If so, this will be explained after I hear from you.
Questions might relate to placement of furniture, best placement for a mirror, the type of mirror to use, supportive colors, desk placement, adjustments to a particular area to support your intentions, clarification about conflicting information you may have heard, etc.
For example: What changes can I make in my prosperity gua to attract more money?  (Send one or more photos of your Career gua for review.)
Help! My prosperity gua is missing!! What can I do?
I have an exit door in my wealth corner. I found out that this can lead to money leaving easily. What should I do?
Send your questions to me at [email protected]. 
May is a great month to activate your Prosperity gua. Half hour consultations are $60.00 this month by Zoom or phone. Longer consultations will be prorated. Mention the May newsletter to receive this special rate. Contact Peg to schedule your consultation.
 Prosperity Study Group
May Topics
On Wednesday evenings, Madeline Gerwick and I host a half hour Study Group on Zoom to help participants strengthen prosperity attraction skills presented in our book Money Is an Energy Game. 
We are currently reading and reviewing one chapter each week. Beginning May 10th, we'll cover Chapters 12 - 15. The topics include our Energy Inventory about: food, exercise, feelings, and thoughts. Note: there is no Study Group on May 3rd (Peg ewill be on vacation).
We invite you to join us. We meet weekly for thirty minutes at 6:00 PM Pacific / 9:00 PM Eastern. Attend as you're able. Participation is free. The weekly sessions are live, and are not recorded to maintain everyone's privacy. If you're interested in joining this group, please let us know. We'll add you to the list and include you in the Study Group communications. Send an email to join the group: [email protected]
If you're on Instagram, Facebook, or Twitter, follow Madeline and Peg's Money Tips for timely reminders to help you cultivate prosperity and strengthen your prosperity development skills.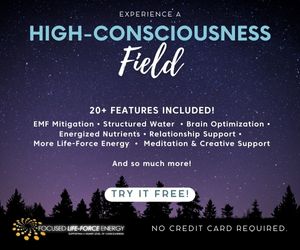 If you have not done so, I recommend that you sign up for Focused Life Force Energy for 15 days on your home and then 15 days on your phone. No payment information is needed, and you'll get a month for free! During each 15-day cycle, tune in and pay attention to what happens. Notice how you feel, how problems are solved, the communications and interactions you have with family and friends, the opportunities that come your way and more. Notice how you sleep, if you have more energy, and if you feel lighter and happier, among other things. 
If you're already a member, remember to do the daily boost for a nice energy lift. Flagship subscribers for Property or FLFE Everywhere can now do two boosts a day. Check it out on your subscription page.
One of my favorite FLFE features is EMF harmonization. Our spaces are saturated with EMFs these days and the FLFE service mitigates their harmful effects. It's worth having it.
In a survey from fall 2021, 84% of respondents reported the benefits to be as expected or greater than they expected. The results indicate that FLFE is having a positive effect for most users. Additional research will explore how and why FLFE works. In the meantime, check it out for yourself, if you haven't already done so. I've had FLFE in place for serveral years. I find that it contributes to a calm, comfortable, and relaxing environment ... of course, feng shui helps too!
Client Testimonial
Design Suggestions 
Brought Personal Pleasure and Resale Results
"Peg's home consultation was a pleasant, welcoming experience. She created a comfortable atmosphere while offering insightful suggestions that made our home feel like home. Implementing her tips, our rooms felt warmer and energized. Peg's ideas for the outdoors, while easy to do, brought new life and welcomed us home as well as be much more inviting to our guests. Peg provided easy to understand and easily to do ideas that we could implement gradually. While we personally thoroughly enjoyed the changes that made our home feel the best it had in all the years we lived there, we have no doubt that when it was time to sell, these changes were instrumental in our home selling quickly and smoothly. I again contacted Peg when we were getting ready to build our next home. Her comments on things to look for in each area/room are key as we review floor plans and make tweaks. I highly recommend a consultation with Peg! " 
TY, NH
Services
Life Coaching
I Ching Readings
Feng Shui Consultations
Office Feng Shui Consultations
Business Feng Shui Consultations
Space Clearings and Personal Clearings
Personal Empowerment Coaching Sessions
Emotional Freedom & Healing Release sessions
A Presentation, Workshop, or Class 
Peg works onsite as well as remotely via email, web, phone, Facetime, Skype, WhatsApp or Zoom. EF&H sessions are generally via telephone. Consultations are tailored to your needs.
Thank you for reading!  
Please pass along to anyone who might like to read this as well.
Peg Donahue
(603) 867-4347