June 2023 Feng Shui Newsletter
Published: Thu, 06/01/23
Welcome

Your June Feng Shui Forecast

Father's Day: Activate Your Helpful People Gua

Prosperity Affirmation #192

Q&A Service

June Special

Prosperity Study Group

FLFE Free Trial

Testimonial

Please share this newsletter
as far as possible.

 
Hello,
May turned out to be a very full month for me. My husband and I spent time in Washington, DC, the Berkshires in MA, and the Troy/Albany area in NY. In particular, we enjoyed the Norman Rockwell Museum, several gorgeous tulip gardens, and the Van Gogh Immersion Exhibit (in Schenectady, NY), while much of the interior of our house was being painted. 
We're loving the shades of green, white, and cream that we added to our kitchen, dining and living rooms, and bathrooms. We also painted older wood floors in our dining room and living room, in country redwood. They look beautiful! The process was a lot of work as we emptied rooms in preparation and reassessed everything while putting the rooms back together. Our house got a very deep cleaning in the process, and we're pleased with the outcome. It was a big job and well worth the effort.
Now that June is here, it's time to spend more time outdoors, socializing with family and friends, and doing some of your favorite activities. If you wait for the perfect moment, you could miss it. Set an intention to indulge in more of what brings you joy in the present moment, and make it happen.
Here are links to two news items that recently came to me, that you also might enjoy:
In Singapore's Business District, the public can explore gardens and a tropical rainforest, 17-20 stories above ground, in one of the city's newest skyscrapers. Singapore is a densely populated city over six million people, many of whom live in high rise buildings. 
The Gentle Art of Swedish Death Cleaning is the practice of thinning out and organizing your possessions before you pass away, saving your family a lot of time and heartache. Living with less clutter frees you to spend more time doing things you enjoy. It's also a more relaxing and healthier way to live. 
Overall, June is shaping up to month a very good month. Some of the previous cycles that generated conflict and obstacles have passed. As we move forward, spend time enjoying your home, family, friends, and summer.
Happy Father's Day to every Dad! May you enjoy your special day.
Peg
June Feng Shui Forecast …
June 3: Full Strawberry Moon 
June 18: New Moon and Father's Day … Knowledge Gua
June 21: Summer Solstice

We begin June heading towards the full Strawberry Moon on Saturday, June 3rd. If you activated your Wealth gua (back left corner of your house, land, every room in your house) in preparation for the May 19th new moon, tune in and look for signs that your intentions have taken root. The signs might be small or fleeting at first. They will grow stronger and deepen over time. When you plant seeds, the roots develop underground (and out of sight) prior to bearing fruit or flowers above the ground.
Read More
Father's Day … Activate Your Helpful People Gua
Father's Day is Sunday, June 18th. If you'd like to improve or strengthen your relationship with your father or a father in your life (stepdad, father-in-law, etc.), freshen up your Helpful People & Travel gua. This is the front-right corner or your home and every room on your home.
The I Ching is the basis of the feng shui bagua. The Helpful People and Travel gua is the area where the Heaven trigram expresses itself. The Heaven trigram (three stacked solid lines) represents "father" in the mythical family within the feng shui bagua. Heaven is yang energy, thus the connection with the masculine attributes and the relationship to father … think "Father Sky."
This is default placeholder text. Edit and replace with whatever you want.
Read More
Q&A Service      
Are you curious about feng shui or how to bring your space into alignment with your goals and intentions? Do you have one or more questions you'd like answered without having a full consultation? If so, send your questions along and I'll answer them for you in either a written reply, a short recording or a 15-minute Zoom or Facetime call.
Send along your question(s) and supporting information such as a photo or a floor plan, if they would be helpful.
One question is $49.00, two questions are $80.00 and three questions are $99.00. I'll send an invoice for online (or other) payment. If a particular cure or adjustment is required, you may be asked to send along red envelopes as well. If so, this will be explained after I hear from you.
Questions might relate to placement of furniture, best placement for a mirror, the type of mirror to use, supportive colors, desk placement, adjustments to a particular area to support your intentions, clarification about conflicting information you may have heard, etc.
For example: What changes can I make in my Knowledge gua to help me quiet my mind and pay attention to my intuition? (Send one or more photos of your Knowledge gua for review.)
What are the best supportive pictures for the walls in my Knowledge gua?
How can I deepen the connection with my Higher Self via feng shui?
Send your questions to me at [email protected]. 
June is a great month to bring your Knowledge gua into alignment with your dreams and intentions for yourself. Half hour consultations are $75.00 this month by Zoom or phone. Longer consultations will be prorated. Mention the June newsletter to receive this special rate. Contact Peg to schedule.
 Prosperity Study Group
June Topics
Since last September, Madeline Gerwick and I have been hosting a Wednesday evening, half hour Study Group on Zoom, to help participants strengthen prosperity attraction skills presented in our book Money Is an Energy Game. 
This month we'll discuss Chapter 16, Increase Your Prosperity with Spiritual Awareness and Chapter 17: Money Really Is an Energy Game! Then we'll pause for the summer.
We invite you to join us as we complete the book. We meet weekly for thirty minutes at 6:00 PM Pacific / 9:00 PM Eastern. Attend as you're able. Participation is free. The weekly sessions are live, and are not recorded to maintain everyone's privacy. If you're interested in joining this group, please let us know. We'll add you to the list and include you in the Study Group communications. Send an email to join the group: [email protected].
If you're on Instagram, Facebook, or Twitter, follow Madeline and Peg's Money Tips for timely reminders to help you cultivate prosperity and strengthen your prosperity development skills.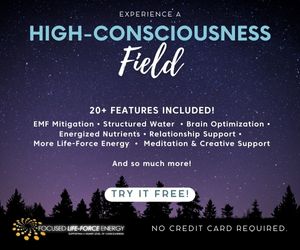 Focused Life Force Energy is a service that raises the frequency or vibration of your property or a personal object, such as a cell phone. The end result is that it helps to create an environment where you (and others who live or work there) feel good. You simply enjoy spending timed in the space. EMF harmonization is one of the many end results.
If you haven't done so, I recommend that you try it out for free for 15 days on your home and then 15 days on your phone. No payment information is needed, and you'll get a month for free! During each 15-day cycle, tune in and pay attention to what happens. Notice how you feel, how problems are solved, the communications and interactions you have with family and friends, the opportunities that come your way and more. Notice how you sleep, if you have more energy, and if you feel lighter and happier, among other things. 
If you're already a member, remember to do the daily boost for a nice energy lift. Flagship subscribers for Property or FLFE Everywhere can now do two boosts a day. Check it out on your subscription page.
One of my favorite FLFE features is EMF harmonization. Our spaces are saturated with EMFs these days and the FLFE service mitigates their harmful effects. It's worth having it.
In a survey from fall 2021, 84% of respondents reported the benefits to be as expected or greater than they expected. The results indicate that FLFE is having a positive effect for most users. Additional research will explore how and why FLFE works. In the meantime, check it out for yourself, if you haven't already done so. I've had FLFE in place for serveral years. I find that it contributes to a calm, comfortable, and relaxing environment ... of course, feng shui helps too!
Client Testimonial
Feng Shui Helped Me Get Back on Track!
"After two years of being at home a lot with the pandemic, and many challenges during that time, I felt like I really needed help with the negative and stuck energy in my life.  I decided to hire Peg to do a Feng Shui consult on my house and property, and WOW, what a difference it has made!  It took some work on my part to put all the cures in place and to really sort out some of the energies that were keeping me locked in into that stuck energy, but it was so worth it.  Within three weeks of making the adjustments, my relationship with my husband got a lot better, my dog healed up from an injury she had for 6 months, a medical condition that I was suffering from is GONE, and the whole feeling of my house and life is so much better. I can't recommend Peg highly enough. If you are having issues in your life, Feng Shui can be an important part of getting things back on track and more positive. I'm really overwhelmed with how well it worked!!!" 
DG, NH, USA, June 2022
Services
Life Coaching
I Ching Readings
Feng Shui Consultations
Office Feng Shui Consultations
Business Feng Shui Consultations
Space Clearings and Personal Clearings
Personal Empowerment Coaching Sessions
Emotional Freedom & Healing Release sessions
A Presentation, Workshop, or Class 
Peg works onsite as well as remotely via email, web, phone, Facetime, Skype, WhatsApp or Zoom. EF&H sessions are generally via telephone. Consultations are tailored to your needs.
Thank you for reading!  
Please pass along to anyone who might like to read this as well.
Peg Donahue
(603) 867-4347