The Comma: The Story The Story That Got Away
Published: Thu, 01/26/23
Pastor's Blog: The Story That Got Away
This Sunday in our On the Brink of Everything series, we explored "On the Brink of New Horizons." New horizons are often positive, new technology, new opportunities. However, sometimes those new horizons can cause fear and uncertainty. In our state, the so called "stop WOKE act" limits the freedoms that schools, colleges, and even businesses have in portraying our history accurately and combating racism. How might we respond to this disconcerting new horizon?
During my message on Sunday, I inadvertently left out this story about one who is facing this horizon head-on. Last week The Washington Post published an article about Marvin Dunn, 82, professor at Florida  International University. Not only is Professor Dunn part of a lawsuit challenging the new law, he is doing his best to defy it... (You can read the rest on our website.)
"The hard thing when you get old is to keep your horizons open. The first part of your life everything is in front of you, all your potential and promise. But over the years, you make decisions; you carve yourself into a given shape. Then the challenge is to keep discovering the green growing edge."    - Rev. Howard Thurman
This Sunday, we stood together "On the Brink of New Horizons" you can watch the service here and watch Pastor Jason's message here. We apologize that, due to a technical error, the service was not live streamed on Sunday.
Next Sunday, January 29th, we will explore the opportunities we have to build connections between generations.
You can read more about Parker and the book here.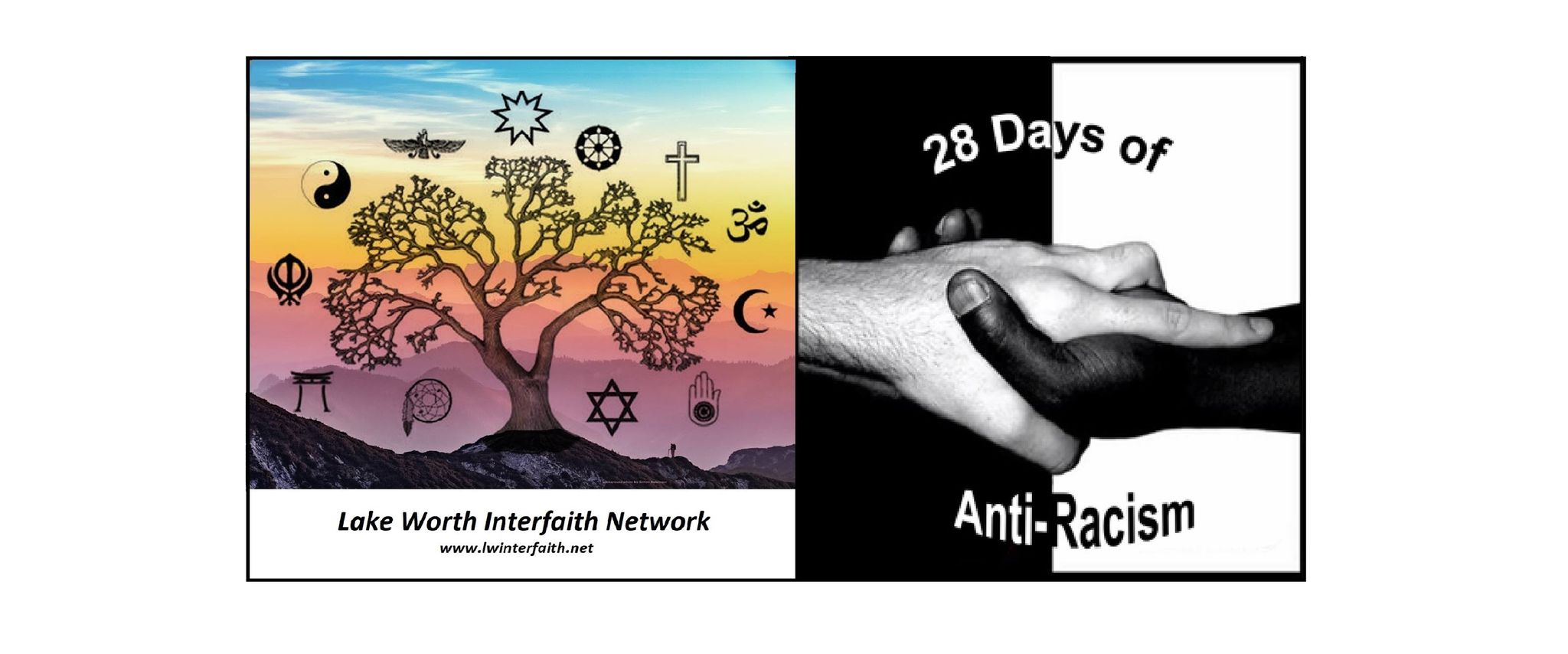 We will once again be observing "28 Days of Antiracism" during the month of February with the Lake Worth Interfaith Network. If you are on Facebook, you can follow along at facebook.com/lwindiversity. We will share their posts on our Facebook page as well.
Book Discussion Group
Join us on Thursday evenings at 6:30 (note time change) as we discuss Parker Palmer's book On the Brink of Everything. We will meet in person in the church office and by Zoom. For our session, tonight, we will read "Prelude" and "The View From the Brink: What I can See From Here."
Justice Ministry Network Meeting
Justice Ministry Network Members, join us on in person on Wednesday night, February 1st as we gather for our annual network strategy meeting. This is our opportunity to lay out our strategy to bring 100 people to the Nehemiah Action on March 27th. We will assign inivtees from the congregation and commit to who we will invite from outside of the congregation. We look forward to kicking off our action invitations!
Practicing Faith, Mercy, and Justice in Community? There's an App for That!
In the next three to four weeks, we will be releasing an app in the Apple App and Google Play stores just for our church. You will be able to stream our worship services, keep in touch with friends, keep up with events, and financially support First Congregational Church all in one place. Be looking for more information!
Along with this platform change, our online giving platform will be changing. If you have a regular giving plan set up with us, you should have received an email with instructions on how to switch that over to our new platform. You can find those instructions here.
Our February Gather Potluck falls on the same day as the Super Bowl so we are celebrating by sharing our favorite soups and accompaniments. We will also be collecting money and canned goods for CROS Ministries food pantry. Join us on February 12th after the worship service.
Dan Hecker will be in rehabilitation for the next couple of weeks at

The Legacy
Room #438
6363 Verde Trail S
Boca Raton, FL 33433
December Financials
Budgeted Income $13,833
Actual Income $19,039.24
Our December financial recap can be viewed here.
Have you explored the opportunity of electronic giving? You can choose to have a set amount taken from your bank account on a regular basis or you can make a one (or more) time gift by checking account or credit card on our website. Your regular electronic giving means that your gift is available for ministry even when you are away (or forgot your checkbook!). Thank you for your continued support of the ministry of First Congregational Church!
Grocery Bags

Peanut Butter

Pouches of Tuna and/or chicken

Canned Vegetables (tab top and/or single serve sizes are best)

Ravioli, Spaghetti, Beefaroni (tab top)

Canned Soups/Stews (tab top)

Single serve ready to eat meals

We are in desperate need of the following mens' clothing items: 

T-Shirts sizes L & XL
Socks
Boxer Briefs sizes L & XL
Athletic shorts sizes L & XL
Backpacks

 
Dan Hecker, Mark Stanford, Barbara Forsyth, Harvey Littlefield, Gary Sitler,  
Terry Ralston, Pat Gregg, Victor Stanley, Bob and Gail Howell, Brigitte Ermansons, The Zook Family, Barbara Derryberry, The Family of Bob Davis, 
The Gonzalez Family, The Spangler Family for the loss of Benjamin, The Stone Family, Bob Lily
 
Thursday Morning Chat & Fellowship
Join us on Thursday mornings at 10:00 for virtual chat and fellowship in our "virtual parlor." 

You can join us by clicking here. The password, if you need it, is fcclw. If you join us by computer, clicking the link will download the necessary software and take you right into the "parlor." If you are joining on your smart phone or pad, you will need to download the Zoom app from the Apple App Store or Google Play. You can also call 646-558-8656 and enter Meeting ID: 718 419 400 and then Passcode: 839769.
Connect with our congregation and community through our YouTube channel. Watch (and share) sermon and teaching videos, as well as videos from our life together. Be sure to subscribe and share with others.
Go to our Facebook page and "like" us. To make sure you see everything from us, go to the pull-down menu and click "Get Notification."
As much as we love gathering together on Sundays, there are times when we are out of town or unable to be together in person. You can watch our worship service live on Facebook right on your computer, tablet, or smart phone. At 10:30 on Sunday, just head over to our Facebook page and join us!