A Guide to Jury Duty by Oliver DeMille
Published: Tue, 10/21/14
"I'm going to serve on jury duty," my daughter told me. "Any thoughts?"
A Problem and A Solution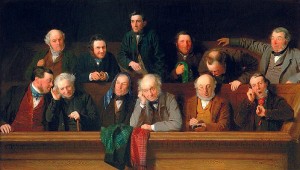 This will be short. Share it with anyone who might serve on jury duty. Save it to reread whenever you get called to jury duty. It is powerful information about freedom and being a leader in our society.
First, the American framers made juries a central part of the judicial system because they didn't trust anyone else to keep the government in check.
Think about it. Nations with no juries still have judges, lawyers, and court cases. They arrive at verdicts and mete out punishments. But they do it all with two entities: the government and the accused.
The founders wanted something different. They didn't trust government. "Power corrupts, and absolute power corrupts absolutely," as Lord Acton put it.
The founders had seen what the British government did with its judges and courts. They had read about judicial abuses in Rome, Greece, Israel, the German principalities, and nations down through history. They knew that in almost all judicial systems, all through history and around the globe, an accused person had very little chance for justice.
Their solution? Juries.