A Proposal on Reforming the Supreme Court by Oliver DeMille
Published: Thu, 07/30/15
A Proposal on Reforming the Supreme Court
I don't mean it. I'm going to propose it, but I don't really want it. Or think it's a good idea. This proposal is meant to be ironic. But it still needs to be said, because there is far too much truth to it.
The New Supreme Parliament of the United States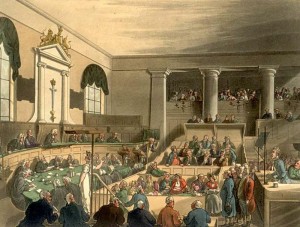 In the wake of recent Supreme Court decisions, it's clear that the Court doesn't just try cases. It now writes law. It isn't only a Supreme Court, it's the de facto Supreme Parliament of the United States as well.
The Court uses some decisions to simply rewrite the laws of the nation, including the laws of the states. It's been doing that for some time,[i] of course, but now it's taking this approach to a whole new level. It has decided that the 9th and 10th Amendments are outdated, and it just ignores them.
For example, the Court labels Obamacare a "tax", even though the Congress and President who proposed and passed it never called it that, and even though it skirts many state laws. The Court just makes up its own way. Forget the actual case at hand; the Court is convinced that it has the power to create whatever it chooses out of thin air. Whatever the Court says, goes. Call it a "tax". And call marriage a Constitutional right, even though the word "marriage" and the concept of marriage are never even mentioned in the Constitution or any of the Founder's commentaries on the federal Constitution.
The Framers specifically left any and all decisions about marriage to the states. The Court has amended the Constitution without even using an official amendment.[ii] Many times. Just because it wants to.[iii] I'm not saying the Court got any of these recent decisions wrong, or right. That's not my point. In fact, my point is much more important than any of these cases. I'm saying the Court has no authority in the Constitution to make many of its decisions.[iv]
It gave itself the power to do these things.[v] It just took the power. Such power didn't come from the people or the Constitution.[vi] Such power isn't legitimate authority. It is, to use the precise, technical word that the Founding generation used for this exact behavior: "tyranny".