February Happenings at Threads of Awakening
Published: Tue, 01/27/15
Celebrate with me this month by attending Film Night or participating in one of the Mandala workshops.
Having Trouble Viewing this Email? View it in your browser here.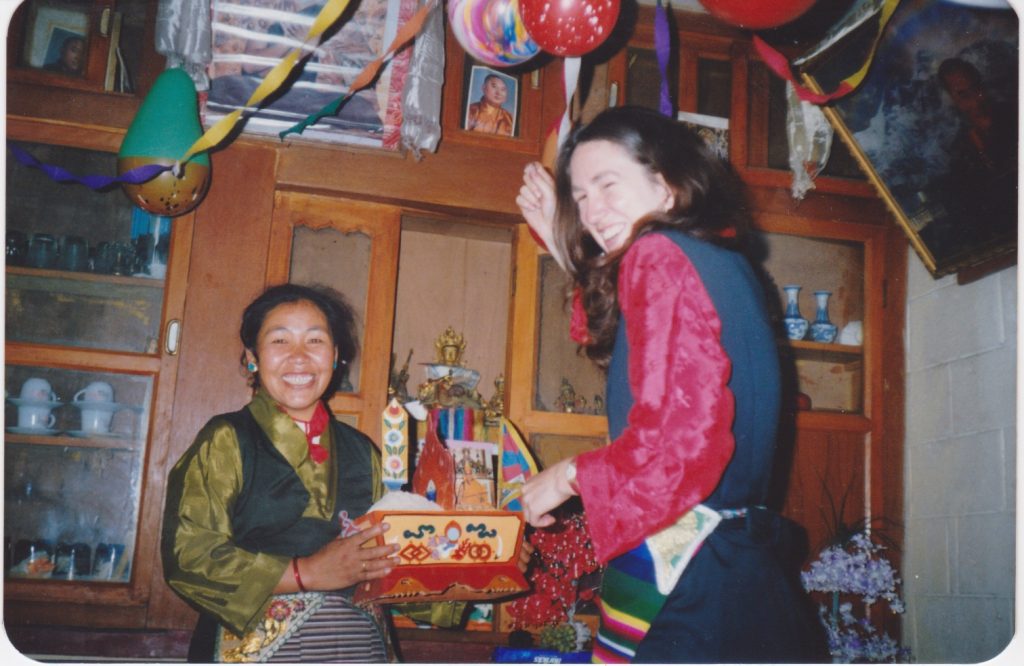 That's me, celebrating Losar (Tibetan New Year) with Tibetan friends in Kathmandu in the mid-1990s. I was still in my apprenticeship, learning to make appliqué thangkas. A lot has happened
since then...
This year, Losar coincides with the first anniversary of the Threads of Awakening Transformative Arts Studio at the Channel Islands Harbor. It's also the first anniversary of this newsletter! I've been making silk thangkas for 22 years, sending out Weekly Wake-Ups for five, leading Laughter gatherings for two. The seed that led to the Stitching Buddhas Virtual Apprentice Program was planted in February seven years ago. And how long have we known each other? However long it is, I'm grateful for our connection. I'm honored that you let me into your inbox every week. I know how full that space can get!
With Tibetan New Year in February, we get a second chance to take stock, celebrate change, and start anew. (Actually, we have that opportunity in every moment!) Celebrate with me this month by attending Film Night or participating in one of the Mandala workshops. Or join me and some dharma friends for traditional prayers and a toast to the new year on Saturday, Feb 21 at the Studio. (Details to follow.) I can't wait to see you!
---

Kalsang Dawa is bringing his unique style of teaching to Southern California
for the first time. It's an extraordinary opportunity to experience Tibetan painting with a living master. But he can only come if we have students
enrolled in the workshops!

REGISTER BY FEBRUARY 8 to make these workshops happen!

Intro to Mandalas

Sun, Feb 22, 1-4pm

In this afternoon seminar, we'll enter the world of mandalas and be introduced to their meaning in Tibetan Buddhism and other cultures.

Kalsang will guide you to draw and color your own personal mandala on paper.

Paint Your Own Mandala

Fri-Sun, Feb 27-Mar 1, 10am - 5pm

In this 3-day weekend workshop, we'll dive deep into ourselves and our creativity to paint our own inner healing mandala.

Learn to grind and apply mineral colors like thangka painters do.
---
Film Night - 24 hours with the Dalai Lama

Thur, Feb 19, 7pm

What could be more perfect than spending a day with the Dalai Lama on Tibetan New Year?

SUNRISE/SUNSET gives us an intimate glimpse into His Holiness' daily life, from his morning fitness routine, through private audiences, press conferences, and blessings… As the sun begins to set and his duties are completed, the Dalai Lama sits down with the filmmakers for a wide-ranging interview covering topics related to the essence of the Universe, the gap between rich and poor, and the role of the individual in religion and contemporary society.

Please RSVP. Space is very limited.

Laughter Practice

Sunday mornings, 9am

Laughter is good for heart and soul. And you don't have to be in a good mood to do it. I'll show you exercises to experiment with voluntary simulated laughter... or as I prefer to call it, voluntarily stimulated laughter.

As Thich Nhat Hanh said, "Smiling is a practice, a yoga practice. Don't say, 'I have no joy, why do I have to smile?' Because when you have joy and you smile, that is not practice, that's very natural. When you don't have joy and you smile, that is a real practice."

Let's practice together.

No laughter gathering on Feb 1.
---
Appreciation for Weekly Wake-Ups

A couple weeks ago, many of you responded with great appreciation to my inquiry about whether you use the wake-ups as desktop background. Many of you do! And that makes me very happy.

Whether you save them or just look at them once, though, you let me know that the wake-ups are touching your lives. You shared words like these:

I love opening up my computer to something peaceful since I hate opening up my computer!
I like having a different image and thought seed to contemplate each week.
It's a sacred calming way to ground myself at the computer!
They are a delightful way to start the week.
I use the image and quote throughout the week as a meditation.
I really appreciate the contact and your sharing.
I take a moment of brief meditation when I open your email. Like a breath of fresh air…

The wake-ups will get a fresh new look soon, but they'll keep delivering the inspiration you love. Thanks for reminding me why I created them!

Focus on the Masters Interview

Brooks Institute, Ventura

Sat, March 28, 5:30-7:30pm

I'm extremely honored to have been selected for documentation by Focus on the Masters. FOTM is a nonprofit art appreciation program that documents, preserves and presents the works and lives of contemporary artists in southern California.

FOTM's goal is to demonstrate the importance of the arts to society by bringing accomplished artists to the forefront of the community. The FOTM archive includes oral histories, videotaped interviews, photographic portraits and examples of artists' work.

Founded by Donna Granata in 1994, FOTM is the only biographical resource project of its kind in the country. And this year, they're documenting my work.

One of the best (and scariest) parts of this documentation is a videotaped interview in front of a live audience. I would love to have you in my audience on March 28. Next month, I'll let you know how to reserve your space.
LEARN MORE...

Need space?

The Studio is a place for practice, growth, creativity, & transformation. The space is best for groups of 10 or fewer. Email us.

Dakini as Art

Click to visit
this new online
art gallery honoring the feminine energy manifesting as art and artist.

At the Studio

Stay informed with our online calendar.

Stitching Buddhas Virtual Apprentice Program

Learn the Tibetan art of sewing sacred beauty... from home!

Coming up in March

Join in the creative process at our March Prayer Flag Workshop.
Did a friend forward this newsletter to you?
If you like it and want more, put your name on our list for future issues.
Please share this newsletter with your friends...
---