HOPE for Kittens!
Published: Sat, 03/26/22
Courtesy Photo by Greenhill Humane Society and their available kittens. Animal Shelters offer hope for homeless kittens.
Nadine needed working Henhouse mousers and the Humane Society of Cottage Grove (HSCG) was overwhelmed with feral cats and kittens.  A HSCG volunteer arrived at her home with a WILD mama kitty and her two littles in a big carrier complete with a litter box.
"Over the next few months all three ferals have learned to trust me," said Nadine. "Babette, the female kitten likes to be held and walked like a baby while she purrs up a storm. Her brother, Johnny, purr-furs being loved while standing on the ground and having his tummy rubbed!   Their once skittish Mama accepts head to tail pats while she eats.  They come running when they hear or see me - mewing loud welcomes!"
When the volunteer delivered the fur family, they were terrified.  The Mama was cowering in the back corner of her kennel and her terrified kittens piled on top of each other. They were afraid of Nadine and brave Babette always hissed and threatened to attack.  
Following the volunteer's warning, Nadine was careful not to put herself anywhere that Mama could attack a hand, arm, or face.  The concern was that if they startled, Mama would bolt and attack her in her escape.  While, feeding the cats and changing their litter, she wisely kept a barricade between them.
"Our connection has been slow, but it has produced wonderful results," said Nadine. "My veterinarian said, 'Feral cats will eventually become tame but if abandoned they quickly revert to their feral ways, the same with abandoned tame cats.  It's their way of surviving.'  
I have never worked with feral cats.  I took it slowly and let them call the shots. I had no idea where it would go or if I'd ever be able to hold them!  The thought never crossed my mind because some house cats don't like being held!  I was simply helping a single-mother and her  babies as an act of kindness, hoping they would get rid of Henhouse rodents in exchange for the food I provided."  
The volunteer warned Nadine that once the feral family left their kennel, she may never see the Mama again, and only have two skittish helpers, and those she might not see, but they would eat food she left out.    
"The first time Babette rubbed against me, I was afraid she'd bite if I stroked her," said Nadine. "She had been snarling and hissing only a few weeks before! What a relief! I cried when she didn't hurt me and now, I pet her every day!  Another scary milestone for us both was when I picked her up for the first time. I held her against my chest, with our heads touching.  She was content, turned and looked at me with trust and astonishment while loudly purring!  Again, I cried.  It was unbelievable!  
Johnny rolls on the ground for belly rubs purring loudly! It has been an amazing journey for the four of us and we've just begun!
If our experience helps others feel open to adopt feral kitties, that's fantastic.   If each of us adopt a couple, made the time commitment to work with them and help them feel loved, it would be wonderful for them and for you!  Together, we can alleviate our community's feral cat numbers through spay and neuter, but in the meantime, we can bring joy and comfort to little fur beings – and to ourselves.
I had no idea what was paws-ible.  None. I'm emotionally overwhelmed with the growth of my three charges."
During frigid weather, a Tips 'n' Tales reader put a shop light next to our hummingbird feeder to keep the nectar from freezing. It worked and the hummers enjoyed the added warmth.
Animal shelters are never idle. Last year, Greenhill Humane Society found loving homes for;  1,424 cats, 437 dogs, 82 guinea pigs, 72 rabbits, 30 rats, 12 hamsters, 7 gerbils, 6 ferrets, 5 chickens, 4 geese, 3 bearded dragons, 2 chinchillas, 1 bird, 1 snake, and 1 tortoise = 2,087 total adoptions.  
All shelters need our support to keep up their work. Check websites for their "Wish List" of needs.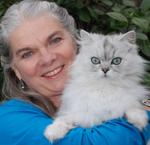 Tell Mary Ellen "Angel Scribe" why you love your pet and share this one with your friends.
Pet Tips 'n' Tales newspaper column has appeared weekly in Oregon's "Cottage Grove Sentinel" for 23 years.
This column is also available to publish in your newspaper.
Thank you for your donations which support this newsletter.
Mary Ellen's Silver Persians swam their way into readers and viewer's hearts!  International TV shows featured the swimming felines teaching pet-water-safety.
Their furry faces also appeared on a line of t-shirts and on Animal Planet and Anderson Cooper's show and in magazines/newspapers around the world. (France, England, Canada, China, Germany, USA, etc.) and are mentioned in Chicken Soup for the Soul books.
VIEW
Swimming for Anderson Copper
and
Forward this pet article onto friends and family.  They too can enjoy Pet Tips and Tales via E-newsletters. 
If you know another publication whose readers would also love these articles contact me.
or
Follow Pet Tips 'n' Tales on Facebook: 
When an email arrives from aweber.com  confirm that you wish to subscribe.
If you do not see the email in your IN box, check your spam/bulk area.
Mary Ellen ^I^    AngelScribe@msn.com
PS - You can also join my Angelic Inspirational newsletter: 
https://www.facebook.com/AngelScribe1111/