Mayor Dog!
Published: Sat, 04/02/22
Now a brief word from Littleton, Colorado's Mayor Murdoch.  "Bark! Bark! Bark!" The interview was cut short when Mayor Murdoch, a five-year-old, Basset Hound saw a squirrel and took off running.
Littleton now has two mayors, one human and one dog. All eyes and hearts are on the lookout to greet Mayor Murdoch when he is running errands with his pet parents Beverly and Howie.
When the couple read that the nonprofit organization, Historic Littleton, Inc. was seeking a dog for mayor in their town of 48,170 constituents Beverly declared, "This kind of PAW-LAH-TICS we can get behind! The fun contest raised historic preservation awareness.  We took pictures of him visiting our historical buildings and posted on Instagram: murdoch.the.hound."
They took Murdoch downtown, like any eager politician to shake hands, trying to stay ahead of the pack asking for votes.  With their candi-dog's friendly personality and lovable face, his adoring constituents fell in love with him.  He was selected as a top ten candidate and the town went wild voting!
"It was an exciting, fun and serious race to the end!" said Beverly. "The 'election' united our community! We watched the results and our dog was close to winning. We all know our pets are winners; but when he won, I cried tears of joy. His voters had acknowledged that our sweet hound dog was indeed a winner and a pawfect Honorary Mayor."
The town's human mayor had 12,000 votes and the dogs 6,000!  Murdoch received 2,500 and Netty, a French Bulldog service dog, was second with 2,194 and serves as the Honorary Dog Mayor Pro Tem. The dogs facilitate education programs and events for Littleton's historic preservation.
"Murdoch has always been a social butterfly.  However, since becoming Mayor, he seems to know he's extra special, and 'struts his stuff' looking for people to love on him," confessed Beverly. "He is a people stopper wearing sun goggles to protect his eyes. Murdoch is easy going and lets us dress him up in all sorts of outfits. While running for Mayor, he wore a Top Hat and looked like a winner. His voters said that he looked dapper!
One day, a lady stopped us and asked if she could pet the Mayor.  She hugged, kissed, and loved on him. In ecstasy at his new pup-ularity, he rolled onto his back as she gave him a belly rub. She must have been having a bad day and Murdoch transformed her. She started crying and told us that Murdoch made her happy and brought joy to her soul saying, 'He is just what I needed today.' Murdoch has what every Mayor needs, charisma and compassion. We have made many new friends since our dog's successful election."
At home, the dapper pooch brings laughter as he jumps up and down on his dog bed, growling at it to get it "Just right" for his snooze.  He is lucky to be a mayor and not in doggy jail as his favorite game is grabbing toilet paper and running away with it just like he did the election. He thinks it's fun, but Beverly said she looks wild chasing after him to salvage the toilet paper. He must not have heard of the 2020 paper shortage.  It may be the Mayor's favorite game, but certainly not Beverly's!

"Murdoch is excited for his two-year Mayoral term," added Beverly. "He has already em-Bark-ed on his campaign promises of paw shaking and spreading love and to thank his community. He advises the next candi-dogs to also be on their best behavior and spread love too, because LOVE makes the world go round.  What an adventure it's been since our dog won this paws-ition of notoriety. We have learned more about our pawsome town's history and met lovely people and their dogs." Instagram:  historic_littleton_inc 
Cat computer troubles? Cat sitting on keyboard or in front of the monitor? Place an empty box on your computer table and it immediately solves the problem.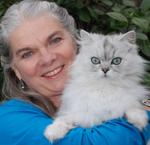 Mary Ellen "Angel Scribe" would love to hear and share your pet's story!
Pet Tips 'n' Tales newspaper column has appeared weekly in Oregon's "Cottage Grove Sentinel" for 23 years.
This column is also available to publish in your newspaper.
Thank you for your donations which support this newsletter.
Mary Ellen's Silver Persians swam their way into readers and viewer's hearts!  International TV shows featured the swimming felines teaching pet-water-safety.
Their furry faces also appeared on a line of t-shirts and on Animal Planet and Anderson Cooper's show and in magazines/newspapers around the world. (France, England, Canada, China, Germany, USA, etc.) and are mentioned in Chicken Soup for the Soul books.
VIEW
Swimming for Anderson Copper
and
Forward this pet article onto friends and family.  They too can enjoy Pet Tips and Tales via E-newsletters. 
If you know another publication whose readers would also love these articles contact me.
or
Follow Pet Tips 'n' Tales on Facebook: 
When an email arrives from aweber.com  confirm that you wish to subscribe.
If you do not see the email in your IN box, check your spam/bulk area.
Mary Ellen ^I^    AngelScribe@msn.com
PS - You can also join my Angelic Inspirational newsletter: 
https://www.facebook.com/AngelScribe1111/