A Pig's Tale!
Published: Mon, 05/09/22
Michelle's pig Arbutis (BOOTS) was the talk of the town. This photo is deceiving, Boots is not that long. Hiding behind Michelle is Orvil.
Michelle and Michael live on four acres where their four goats and two KuneKune pigs 'mow' their lawn saving them hours of mowing.
"When I learned that KuneKune's were grazers, it was a great excuse to adopt piglets because I love all animals," said Michelle. "Little Arbutis (nicknamed Boots) arrived barely bigger than our Chihuahua.  We bathed and fed her and made her a comfy home. When we left to buy farm supplies, she wiggled out and ran off.
I went door to door searching for her and met so many people. We posted a 'Little Lost Boots' notice on "What's Going On In Cottage Grove, Oregon" Facebook page, and signs all over town.  For three agonizing days, the community of Cottage Grove helped search high and low for our missing Boots.
Two days later, a nearby farmer phoned saying he'd caught Boots and she's living in the lap of luxury. She was safely inside his home and his wife was feeding the piglet slices of apples and falling in love with her. We were elated when he brought her home! Boots has never tried to run off again."
Next came Orvil with a cute spiral tail.
"Boots and Orvil are big friendly babies who instantly bonded," said Michelle.
They were named after Michelle's hard-working ranching, mill working and logging grandparents, Arbutis and Orvil. The piglets bonded so well that they made a perfect match like her grandparents.
"My grandfather would be tickled that a pair of pigs, who are not used for food, were named after him," laughed Michelle.  "Like my grandparents, they don't tolerate being separated. Our pigs are sweet natured, intelligent, loyal and display a wide range of emotions.  When I love on them, they do 'a hot pant' which is an excited happy chitter noise. Like dogs, they come when called and flop over for belly rubs. Neither display aggression and are content at home where food is ample, and scratches are often. They are happy to see me when I feed them, and they love attention.  Everything they do brings me joy."
During mealtime, Orvil runs from his bowl to Arbutis's bowl to 'share' her food. This dance goes on until both bowls are empty. When Michelle is preparing their slop, they take turns standing on top of each other to watch. It slows down the process, because in their excitement, their big-fat heads block her view of putting food in their bowls.
Their skin is super thick making it a challenge to give them twice yearly inoculations.  The reason that pigs wallow in mud is because their skin sunburns easily. Mud keeps them cool and is their sun protection lotion.
Do Arbutis and Orvil earn their slop by 'mowing' the lawn?
"They do an excellent job maintaining our property by keeping the grass trimmed and fertilized," added a proud Michelle.
 
"Research prior to taking responsibility for a living animal, this especially applies to pigs," said Michelle. "There is no such thing as a 'mini pig' as they are often marketed. Just like saying a goldfish will grow to the size of a tank, or a Great Dane will only grow to fit your apartment. Animals grow to the size their DNA depicts. Often people hear 'mini pig' and think like a mini pincher, a teacup poodle or tiny pig. A mini pig can weigh 259 plus pounds which IS smaller than an 800 plus pound farm pig. Mini-pet pigs are BIG! Boots and Orvil are 250 pounds each.
Take into consideration that they are creative and very naughty in isolation. They need companionship.  They root up your yard, and their average life span is 15-20 years. Pig sanctuaries are filled with abandoned pet pigs. If I had known that before, I would have adopted rescue pet pigs. They need their hooves done once annually. I dearly love my pigs and they have a proper loving home, but it could have gone completely different without earlier research."
Love this article? Tell us your pet memory, adventure or humorous event!
angelscribe@msn.com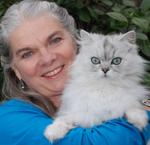 Tell Mary Ellen "Angel Scribe" your pet's story and share this one with your friends.
Pet Tips 'n' Tales newspaper column has appeared weekly in Oregon's "Cottage Grove Sentinel" for 23 years.  Want this column publish in your newspaper or magazine? Tell them about it.
Thank you for your donations which support this newsletter.
Mary Ellen's Silver Persians swam their way into readers and viewer's hearts!  International TV shows featured the swimming felines teaching pet-water-safety.
Their furry faces also appeared on a line of t-shirts and on Animal Planet and Anderson Cooper's show and in magazines/newspapers around the world. (France, England, Canada, China, Germany, USA, etc.) and are mentioned in Chicken Soup for the Soul books.
VIEW
Swimming for Anderson Copper
and
Forward this pet article onto friends and family.  They too can enjoy Pet Tips and Tales via E-newsletters. 
If you know another publication whose readers would also love these articles contact me.
or
Follow Pet Tips 'n' Tales on Facebook: 
When an email arrives from aweber.com  confirm that you wish to subscribe.
If you do not see the email in your IN box, check your spam/bulk area.
Mary Ellen ^I^    AngelScribe@msn.com
PS - You can also join my Angelic Inspirational newsletter: 
https://www.facebook.com/AngelScribe1111/