A "Whittle" Dog
Published: Tue, 09/27/22
Andeena's new pup, Whitley, is powerful healing medicine and exhausted from a fun day of paddle boarding.
"They say a person needs just three things to be truly happy in this world: someone to love, something to do, and something to hope for."  Tom Bodett
On my last day of chemotherapy, six-month-old Whitley "Whittles" was a gift from the heavens! I was out walking my other dog, Eli, when someone with English Cream Golden Retrievers stopped to talk to us.
He told us that he had four puppies left in the litter. It seemed providential as I had been staring at a picture of one on my vision board for two years during the pandemic. A friend and I were absolutely not going to get one, but we went to take a lookie loo and we both brought one home!
Choosing the perfect name for Whitley took Andeena a month! The name finally came to her in meditation as it means White Meadow.
"I started calling him Whittles as a nickname," said Andeena. "He comes to both names, but my friends call him Whittles which is adorable for the combination of the words 'little' and 'white'. Plus, his puppy crafting skill of whittling sticks, with his sharp teeth, and leaving them around the house crafted his 'pet name'.
The pup loves his big brother, Eli. They play all day long and share toys and bones. When they are playing ball Whittles claims the ball by diving onto it. He likes rolling over onto his head and sliding down Oregon's sand dunes on his back.  What is not to love about a cute puppy who licks and cuddles one of my blind kitties who loves Whitley so much that he's possessive of him? He enjoys morning cuddles in bed, and shows how excited and proud of himself when he gets praised for doing something good."
Potty training in the rain was a nightmare for Andeena. She'd had a hysterectomy and was not able to lift 10 lbs. for six weeks.  She did manage to succeed with the 'dogged determined' potty success.
"Whitley is an absolute angel and joy," said Andeena. "He relishes the simple things of life. He is enthusiastic on our morning walks and adores all the humans and their pets. We recently started therapy dog training which keeps us focused."
This summer we started paddle boarding. He is a dream dog who calmly sits on the board.  When he gets the 'Go ahead' he jumps off to swim and chase leaves or his water toy until he is exhausted. Having a companion on board makes things VERY interesting! You get dumped off when you least expect it. You build more leg muscles stabilizing your legs. Sharing nature with a doggie companion MUST have health benefits?! It's good to have a solid' sit' and 'down' when starting paddling. Treat training and staying in shallow water builds confidence for everyone. Having a water dog that loves cruising helps too. I enjoy how he makes people on the beach or other boards smile as we paddle by them or him around me.
Having cancer with a puppy is interesting. He will probably be my last dog. Whittles helps me live in the moment and treasure every second. When I watch his little bum sashaying down the hallway, or laying on his big brother, Eli, or curling up on my lap, my heart bursts with joy.
The little moments of life are the most joyful. Being diagnosed with cancer was the best thing that ever happened to me. I'm no longer waiting and instead choosing to do all the things (including getting a puppy!) that I've wanted to do but didn't. I'm still here enjoying life and that is the important thing."
Pet JOKES n Quotes
Q: "Have you seen the dog bowl?"
A: "No. I never knew he could bowl."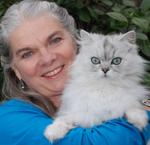 Tell Mary Ellen "Angel Scribe" your pet's story and share this one with your friends.
Pet Tips 'n' Tales newspaper column has appeared weekly in Oregon's "Cottage Grove Sentinel" for 23 years.
This column is also available to publish in your newspaper.
Thank you for your donations which support this newsletter.
Mary Ellen's Silver Persians swam their way into readers and viewer's hearts!  International TV shows featured the swimming felines teaching pet-water-safety.
Their furry faces also appeared on a line of t-shirts and on Animal Planet and Anderson Cooper's show and in magazines/newspapers around the world. (France, England, Canada, China, Germany, USA, etc.) and are mentioned in Chicken Soup for the Soul books.
VIEW
Swimming for Anderson Copper
and
Forward this pet article onto friends and family.  They too can enjoy Pet Tips and Tales via E-newsletters. 
If you know another publication whose readers would also love these articles contact me.
or
Follow Pet Tips 'n' Tales on Facebook: 
When an email arrives from aweber.com  confirm that you wish to subscribe.
If you do not see the email in your IN box, check your spam/bulk area.
PS - You can also join my Angelic Inspirational newsletter: 
https://www.facebook.com/AngelScribe1111/