Thanksgiving Prayer Creates a Christmas Kitten Miracle
Published: Tue, 11/22/22
Dear Santa, please bring me a kitten!
Thanksgiving Prayer Creates a Christmas Kitten Miracle
How is it possible for life's events to mold into a mountain of coincidences, synchronicities and miracles that they whirl like an infinity sign of life? Creating puzzles that blend, exposing a great mystery.
Thanksgiving Day in 2000, I found a Boston breeder of Chinchilla kittens on line. Linda's beautiful kittens spoke to my heart.
Linda does not ship kittens, and they cost more than our family could afford so I was limited to dreaming of having one to hold in Oregon.
Christmas morning, my daughter gave me a red sweatshirt from Morning Sun designed by B. Hammer with a sleeping Persian kitten tucked in a Christmas stocking with the caption, "Dear Santa, please bring me a kitten."
Holding the sweatshirt, I felt like the child whose grandparents go to Hawaii and return with a T-shirt that reads, "My Grandparents went to Hawaii and all I got was this dumb T-shirt."
Three days after Christmas, Linda phoned and offered me the gift of one of her kittens, Miss Wings. Her miracle kitten was born December 8, 2001, on a blue moon between the solar eclipse of a new moon.  She was the only living kitten to her mother who had six previous litters, and Miss Wings came out meowing! Linda said, "I have delivered hundreds of kittens AND never had this happen before or since! Would you like it for free?"
The only trouble was that someone had to fly with the kitten from the east to the west coast.  So, I put a request out on my Angel Scribe miracle newsletter.  The sister of a reader, a flight attendant, Vivian, emailed volunteering to pick up and fly the 3,000 miles with the kitten on her days off.
Vivian flew Miss Wings to Oregon with the gifts of the furry love of my life and cemented the friendship of another wonderful human friend.
Three years later, I received an email from Bonnie, a professional artist who had searched the internet for 'kitten inspiration'.  To her surprise she saw the photograph of me wearing the red Christmas sweatshirt holding Miss Wings. Stunned, she emailed:
Dear Mary Ellen,
I am honored to be involved in the journey that joined you and your little Angel baby as I am the artist who drew the "Dear Santa Kitty".  As an illustrator, I've seen people wearing my designs and seeing my artwork in catalogs but reading your story I was shocked and touched that I had played a part in your lives! Angel Blessings and Kitty purrs, Bonnie J. Hammer.
How amazing for her to find the photograph of me wearing her sweatshirt holding Miss Wings!
Morning Sun clothes are sold worldwide, and designers must also be worldwide.  This is the Internet and folks don't usually live around the corner from you!
I emailed Bonnie... drum roll.... we discovered that we lived within walking distance of each other!  She was thrilled at the prospect of meeting Miss Wings, and her kittens, because she was currently sketching them to feature on sweatshirts!
Miss Wings and I drove over to Morning Sun and met Bonnie and her co-workers. Sitting on her worktable was the T-shirt sketch of Miss Wings' son, Myster E., that she was working on!
Miss Wings and her kittens' photos were posted around Bonnie's work cubicle like Christmas ornaments!  It was like we were already family!
So, the dumb Christmas sweatshirt episode, instead of a live kitten...had more meaning than either of us could have dreamed!
The beautiful sweatshirt was a message of more miracles to come!
I was looking for love, hope and joy in the arrival of a kitten.  Bonnie was looking for inspiration when she found my website. Our connecting was a miracle, a Divine moment!  Bonnie fell in love with Miss Wings and her furry children, and Bonnie and I remain friends!
I shared the joy of the syncro-destiny with Linda, and she responded how Miss Wings had changed her life as well!
Dear Mary Ellen,
Miss Wings changed me totally!  I did not like the person I was before she came into my life.  Thanks to her, the Angels and you, I can honestly say that I like the person I am now. I am more compassionate, loving, caring and an all-around better human being.
Miss Wings was not wanted by anyone, because of her birth tail injury.  I had a gut feeling that she was special and sent for a specific reason. My life changed as soon as I brought her into the world.
I want to help people and I am more in tune to their feelings.  Miss Wings opened my eyes to a different part of the world.  Not as we know it, but a higher level. Since meeting you, I have read about Angels and communicating with them. I feel like a magnet and draw people to me, whether they are grieving over a lost pet or loved one, they need to be reminded that they too have Angels in their life.  
When someone takes home one of my kittens, it is like they are bringing an Angel home - and their life also changes! Thank you, Mary Ellen, for contacting me Thanksgiving of 2001.
I had no kittens available at that time, Miss Wings' birth and survival is a miracle. The depth of her life is so grand that I cannot fathom how much it would affect me, my life and lifestyle.
Angels are a part of my everyday life now; I talk to them and ask for their continued guidance.
My kittens and I have helped many lives.  I now pray for many who have problems and send the Angels to help them. I am forever changed.
Love, Linda
Fast forward to 2022, currently, there is stress in my life, so I prayed to God and the Angels to lift the fear and hand the problem over to them.
Immediately after, I looked over at the TV and it was playing the 2022 Super Bowl Carvana commercial.  In the next second something stunning took place, something that was 18 years in the making creating a prayer miracle!  One of the actresses was wearing the pink sweatshirts with Myster E. on it like the three in blue in my closet.  How did this happen two seconds after a prayer to God for love and support?  
We are taught to "look for signs" that the angels are with us, that God loves us, but when a purrs-onal "sign" appears on TV, it is a stunner!  
We never know what is unfolding in our lives, or what direction it is taking or why!

Hold to the vision that life is like an infinity sign, wrapping around what you do, what you give, what goes out, and comes back to you in magical ways.  Miracles are gems with many facets, with a magical luster that uplifts many!  Watch for your signs!
Wishing you a Christmas pet miracle!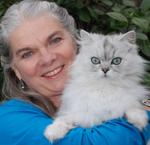 Tell Mary Ellen "Angel Scribe" your pet's story and share this one with your friends.
Pet Tips 'n' Tales newspaper column has appeared weekly in Oregon's "Cottage Grove Sentinel" for 16 years.
This column is also available to publish in your newspaper.
Thank you for your donations which support this newsletter.
Mary Ellen's Silver Persians swam their way into readers and viewer's hearts!  International TV shows featured the swimming felines teaching pet-water-safety.
Their furry faces also appeared on a line of t-shirts and on Animal Planet and Anderson Cooper's show and in magazines/newspapers around the world. (France, England, Canada, China, Germany, USA, etc.) and are mentioned in Chicken Soup for the Soul books.
VIEW
Swimming for Anderson Copper
and
Forward this pet article onto friends and family.  They too can enjoy Pet Tips and Tales via E-newsletters. 
If you know another publication whose readers would also love these articles contact me.
or
Follow Pet Tips 'n' Tales on Facebook: 
When an email arrives from aweber.com  confirm that you wish to subscribe.
If you do not see the email in your IN box, check your spam/bulk area.
PS - You can also join my Angelic Inspirational newsletter: 
https://www.facebook.com/AngelScribe1111/