Lucky Beach Bum!
Published: Tue, 10/04/22
Eli, a rescued chocolate Labrador, is as sweet as they come!
Andeena's four-year-old dreamboat, Eli, possesses Labrador behaviors. He's a non-discriminating water dog who charges into the ocean or lays down in any mud puddle.
"His favorite thing in the world is his ball," said Andeena. "The first winter I had him, he was bored on our beach walks as I picked up trash. So, he invented a game for us to play. He runs up any Oregon sand dune with his ball, then rolls it down for me to toss it back. It's great, the exercise suits his high energy.  The game includes lots of running up and down dunes retrieving the ball. What amazes me is that early on, he reasoned out that the higher a dune, the farther his ball rolled, and he'd choose a dune with no logs or obstacles in his ball's path. Beach walkers, stop, exclaim, 'He's so smart' as they video him.
I've noticed that beach walkers with off leash dogs have the happiest and calmest dogs because they both get exercise."
The Labrador's breed is genetically engineered to WORK! This chocolate sweety, stares at his human waiting for commands, for hours, while she works from home.
"ALL DAY LONG!" exclaimed Andeena. "At first, it was haunting and guilt creating, until he realized that I am not moving off the computer chair.  He now focuses his energy on taking long naps."
Eli is a goofy happy-go-lucky beach bum who appreciates life. He loves the expensive food Andeena serves him and is gentle with her two blind rescue cats, beautifully fitting into the family.

"Since the pandemic, our outdoor dog training classes became a blessing.  It gave us something enjoyable to do together, socialize with other dogs and make new friends," said Andeena. "I'm as happy for Eli's company as he is to be here, especially with home-isolation.

He is smart and easily passed his Canine Good Citizen training, a certification by the AKC for dogs trained to be socially appropriate in public. We also practice scent training which is nose work used in canine search and rescue, bomb or drug detection work, truffle hunting, etc.
He loves to work, so in the mornings we have beach adventures with balls or hiking trails, or play at the dog park.  In the afternoons, we scent train for fun. He is always ready to jump up and 'work', even if I blink or God forbid go to the bathroom!
When I adopted him, I was warned.... 'This dog is going to drive you crazy and not be the best fit.'  But here we are, three years later defying all odds!
In my years of rescuing dogs and cats, I have never had any combination that did not get along. When I wasn't looking, my last dog liked to give a little foot pounce at the cats, to see if they would run. None were afraid of him and our Zen home prevailed.
I love dogs. I feel connected to them on a soul level. My mother said that 'Dog' was the first word I uttered.
Eli is my beach buddy, and we make a great pair. He never wants to be left behind, so we ride everywhere together. He is my guardian angel on so many levels.
Once, when he was staring at me, I looked deep into his adoring eyes and declared, 'I love you SOOO MUCH'.
His eyes teared up.  He looked away, then looked back at me with the quizzical expression, 'You do?'. Yes. I do and would suggest everyone rescue their next dog.
"I used to volunteer in animal rescue in the Southern United States," said Andeena. "Our shelter had a 93% euthanasia rate. It was upsetting because the solution is easily fixable by neutering and spaying, preventing pet over-populations' suffering. Please have your pets altered. It makes better pets. Also, never control a dog using pain via shock or prong collars. It makes them reactive/aggressive/skittish."
Joke
Q: "Have you seen the dog bowl?"
A: "No. I never knew he could bowl."
Tell us about your pet and your favorite pet jokes.
Write: [email protected]
Pet Tips 'n' Tales on Facebook.
https://www.facebook.com/PetTipsandTales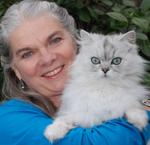 Tell Mary Ellen "Angel Scribe" your pet's story and share this one with your friends.
Pet Tips 'n' Tales newspaper column has appeared weekly in Oregon's "Cottage Grove Sentinel" for 16 years.
This column is also available to publish in your newspaper.
Thank you for your donations which support this newsletter.
Mary Ellen's Silver Persians swam their way into readers and viewer's hearts!  International TV shows featured the swimming felines teaching pet-water-safety.
Their furry faces also appeared on a line of t-shirts and on Animal Planet and Anderson Cooper's show and in magazines/newspapers around the world. (France, England, Canada, China, Germany, USA, etc.) and are mentioned in Chicken Soup for the Soul books.
VIEW
Swimming for Anderson Copper
and
Forward this pet article onto friends and family.  They too can enjoy Pet Tips and Tales via E-newsletters. 
If you know another publication whose readers would also love these articles contact me.
or
Follow Pet Tips 'n' Tales on Facebook: 
When an email arrives from aweber.com  confirm that you wish to subscribe.
If you do not see the email in your IN box, check your spam/bulk area.
PS - You can also join my Angelic Inspirational newsletter: 
https://www.facebook.com/AngelScribe1111/