Red Raspberry Leaf
Published: Wed, 04/08/15
Sponsored by
The School of Natural Healing
 &
Christopher Publications
---
 

 

 

 

April 8, 2015

Red Raspberry Leaf

   

Jo Francks, M.H.

 

When my daughter was in a college nutrition class for women, the teacher told them that red raspberry leaf tea should not be used during pregnancy because it can cause a miscarriage. My daughter texted me during class and I responded, "It strengthens the reproductive organs so if pregnant, it creates a healthy pregnancy." My daughter shared this with the teacher who was grateful but said it would forever be in the textbooks that raspberry leaves should not be used during pregnancy. This information most likely comes from a study conducted in 1954 where fractions were isolated from Rubus.sp. and applied in vitro to the uterine tissues of guinea pigs and frogs. The scientists discovered that one fraction acted as a spasmolytic whereas another caused uterine contractions. Herein lies the risk of isolating the parts of a whole. When used as a whole plant, neither action is exacerbated and the herb is deemed safe.


One of the many virtues of red raspberry leaves is that it feeds the reproductive organs and strengthens them so they work properly on their own. When these organs are strong and healthy, a woman can go through a healthy pregnancy without complications and a healthy baby is born. Women have used red raspberry leaves for painful periods, heavy periods, morning sickness during pregnancy, preventing miscarriage, easing labor and delivery and enriching breast milk.

Raspberry leaves offer a vast array of nutritional value including vitamin A, B complex, vitamins C and E, calcium, iron, phosphorous and manganese. The leaves are also astringent and are used for diarrhea and on the skin to tighten the tissue.
This is an herb with centuries of safe use behind it and all pregnant women should have it in their cupboards

.

 Jo Francks is a Master Herbalist graduate of The School of Natural Healing. She is also a Holistic Iridologist and Quantum Touch Practitioner.
 


 
---
Join us at the Mother Earth News Fair!
The fair will be  held in Asheville, NC on April 11th and 12th. David Christopher, Master Herbalist and the director of The School of Natural Healing, will be speaking on Saturday the 11th at 4 PM on the Mother Earth Living Stage. 
Mother Earth News Fair Information: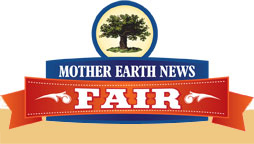 To visit the webpage click
here
.
1301 Fanning Bridge Road, 
Fletcher, NC 28732
Saturday FAIR hours: 9:00 AM-7:00 PM
Sunday FAIR hours: 9:00 AM-5:00 PM
Wristband Passes
No more tickets! No more lines! All 2015 FAIR adult entry pre-orders will receive a wristband good for the entire weekend at any of the 2015 MOTHER EARTH NEWS FAIRS. See all North Carolina FAIR Pass options here. If you have any questions, please call our customer care staff at 1-800-234-3368. Pre-order your wristband and save!
---

To go to the sale click here.
---
Red Raspberry Leaf Tea Punch
 



2 Quarts water
3 Tablespoons Red Raspberry Leaf Tea- in a muslin tea bag or tea ball
 
Bring the water to a boil, add the tea and turn the heat off.  Allow to steep for 10-20 minutes.  Add honey to bring to desired sweetness.  Add fresh or frozen Red Raspberries and fresh raspberry leaves.  This recipe can also be made into popsicles.  Enjoy!
 
Recipe by Tonya Judd

Printable  Version: http://www.herballegacy.com/
---
---
Herbal Legacy
http://www.herballegacy.com
Follow us on:
NOTICE: All information in this newsletter is given out as information only and is not intended to diagnose or prescribe.  For our official Disclaimer, Biological Individuality, Important Notice & Terms of Use please see: http://www.herballegacy.com/Disclaimer.html

This newsletter is sent by permission only - you can unsubscribe quickly and easily by clicking the link below.


.