Nanook of the North
Published: Sat, 03/19/22
In Inuit, Nanook means 'Great White Polar Bear'. Art work depicts, Nanook who when protecting his home resembled a furry alligator.
Bringing a puppy home that grows huge comes with precautions. When Kent lived in the Yukon, he adopted tiny Nanook.  He knew that the puppy would become a powerful male Alaskan Malamute Husky, so he began training his little fluffiness from the get-go. The first lesson was on eating manners.
"Huskies are derived from wolves," said Kent.  "My wife and I were going to have children, who would be smaller than the dog, so I had to teach Nanook eating safety. While he was eating, I got down on my hands and knees and gently head butted his head away from the food to teach him to share. I would pretend to eat, then back off, giving him his turn at the bowl. He quickly learned not to challenge a hand or person and that there would always be food left in the bowl. I repeated this action several times until he learned to share and not inhale his food. He never bit or snapped at anyone who reached out while he was eating."
The first time Mr. Angelscribe and I visited Kent's growing family of three children, Nanook charged us from inside the fence barking like a fluffy alligator wanting to eat us. The 95-pound dog terrorized us. We were relieved to get in the house! 
Kent called Nanook inside. I stood behind my husband planning a getaway.  
Kent pointed to us and said, "These are my friends."  With that Nanook trotted over to us like a happy puppy. He was intelligent with a powerful memory.  We visited their family once a year, and over the years, each time Nanook saw us, he remembered us. He was beyond happy greeting us through the fence like arriving royalty.
Nanook had a pinch of Labrador in his DNA. Oddly, this dog, covered in long, thick, fur loved swimming.  The funny part is his DNA ended at his rear.  Malamutes are arctic sled dogs, heavy boned, deep chests, powerful shoulders, with a dense, weatherproof coat. When he swam, he just used his front legs, and drew his back legs up close to his body. While swimming in the lagoon 'his' three little humans would grab hold of his tail for a fun ride. Everyone would be grinning ear to ear.
The family lived behind a store and every week the 'meat man' arrived to pick up bones from the butcher. He would always seek out Nanook and give him a bone. The dog knew the sound of the man's truck and would run from inside the house, or the back of the yard welcome-greeting him with a happy yodel.  The two of them were best friends. When Nanook became ill and was released from earth, the meat man came up to the family's front door and asked about the dog.  Once you were Nanook's friend, he touched your heart.
Kent was so emotionally connected to his Husky; he knew that these dogs run in packs and howl on full moons.  As each child was born, his dog took the little ones on as part of the pack.  He became their guardian and nanny. 
On full moons, Nanook and Kent would sit on the front stoop. Kent draped his arm over Nanook's shoulder and the two of them would howl at the moon, like a pack of wolves. The bond between the dog and man was so strong that after Nanook's passing, Kent was devastated.  It is forty years later, and he cried sharing this story. Pets possess an amazing capacity to honor and recognize us.  They make us feel loved and important, and they are unforgettable.    
Facebook and Craigs List post animals as 'free to good home'. There is no such thing as a 'free' kitten, cat or dog.  It is far less expensive to adopt one at the shelter, because their adoption fee includes spaying/neutering, vaccines, and microchipping. With a free pet you start from scratch.
Vet clinics have a back log for spaying and neutering pets. Make your pet's 'fix it' appointment sooner than later to avoid unwanted fur-babies.
"Rescue groups exist for all breeds of pets," wrote Adrienne in Connecticut.
NOTE: Tips 'n' Tales needs a photo of cats in the snow for a miracle story in the works. Send: angelscribe@msn.com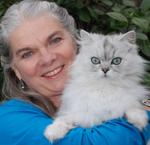 Tell Mary Ellen "Angel Scribe" your pet's story and share this one with your friends.
Pet Tips 'n' Tales newspaper column has appeared weekly in Oregon's "Cottage Grove Sentinel" for 23 years.
This column is also available to publish in your newspaper.
Thank you for your donations which support this newsletter.
Mary Ellen's Silver Persians swam their way into readers and viewer's hearts!  International TV shows featured the swimming felines teaching pet-water-safety.
Their furry faces also appeared on a line of t-shirts and on Animal Planet and Anderson Cooper's show and in magazines/newspapers around the world. (France, England, Canada, China, Germany, USA, etc.) and are mentioned in Chicken Soup for the Soul books.
VIEW
Swimming for Anderson Copper
and
Forward this pet article onto friends and family.  They too can enjoy Pet Tips and Tales via E-newsletters. 
If you know another publication whose readers would also love these articles contact me.
or
Follow Pet Tips 'n' Tales on Facebook: 
When an email arrives from aweber.com  confirm that you wish to subscribe.
If you do not see the email in your IN box, check your spam/bulk area.
Mary Ellen ^I^    AngelScribe@msn.com
PS - You can also join my Angelic Inspirational newsletter: 
https://www.facebook.com/AngelScribe1111/