Healing Power of Pets
Published: Mon, 05/02/22
Austin transforms from a terrified puppy to an incredible healer.
"Four years ago, I was lucky to be alive after spending three months in the hospital," said Natasha. "I knew two things: 1. Survive 2. Get a dog once home. I searched for a small, rescued dog but they were hard to find.  Life felt completely wrong without a dog."
Natasha finally found a feisty ruby-colored puppy, Austin, who wasn't anything she expected. He was neither sweet nor easy-going.  He was petrified of everything and panicked when walking off tiles onto a rug. He was angry and ran across a room to bite her. She had raised Shepherds and Retrievers, but never had a puppy not bond, or cuddle. Her scared furry bundle was full of fear.
"I couldn't understand him, so I Googled - 'How to train a poodle', said Natasha.  "Poodles and King Charles Cavaliers are hunting dogs, protective, deep thinkers, and emotional. Austin is a Cavoodle, both breeds, and I'd been communicating in a way he could not comprehend.
He was trying to communicate his frustration by treating me like another dog with biting. I stopped telling him what to do and saying 'No.' Poodles don't like being ordered, they respond to manners and comprehend respect.
I began repeating the same words, hand gestures and used an excited voice so he knew what was going to happen. Everything terrified him but treats encouraged him to relax and play. The biting stopped with play and distractions. He is no longer shy, adores affection and kisses me. He now runs to me even if far away when I call, 'Where's my baby?'
The world scared him, so every morning, I'd make an effort to be happy and launch myself into the world with 'Let's go' and we would go for a short walk.
What I wasn't expecting was how many friends I made at 'his' park.  There is something special about dog owners."
Natasha trained Austin to walk off lead by doing a slight dance and shortly after he was following her dancing. He responded to play, mischief and fun. Now the two are inseparable.
Austin has become confident and relaxed through gentle massages. He now sits for toddlers and is not afraid of bikes and baby carriages.  At a nursing home, he patiently sits while seniors pat him. Everyone considers him a welcome blessing. His dramatic change from a once terrified animal to who he is today is miraculous.
"Once, when several children walked over to us saying, "Your dog looks like the TV show dog, Waffle dog," said Natasha.  "He remained relaxed, unfazed, lay down and stretched out as they patted him. I was so proud of him.
Cavoodles are highly sensitive to people's emotions.  They rest their head on your body as they look at you reassuringly. Austin does not sleep on me, but when my friend was sad after losing her dog, he slept on her foot as we had coffee.  I had no idea this is what her dog used to do.  Dogs are incredibly magical.
Helping my emotionally overwhelmed dog overcome his fears also healed me. I had to be positive for him, he forced me to go outside, walk and greet people, even when I didn't feel well. He's taught me to dance and play, that every day can be fun, and that life changes with a new perspective.  His confidence level is now unbelievable. He even chased a burglar off our property and returned so proud of himself.
Today, Austin and I are blissfully happy. He changed my life as much as I changed his.  We are grateful for finding each other."
 
Natasha said, "Austin and I communicate so well that words are not needed. We practically know what each other is thinking.  The more time you spend with an animal, the more this happens. Animals gift us companionship, love and remind us that life can be joyous and fun when sharing it together."
*** Tell us your fur-avorite pet joke or story.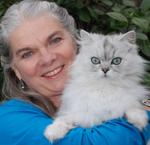 Tell Mary Ellen "Angel Scribe" your pet's story and share this one with your friends.
Pet Tips 'n' Tales newspaper column has appeared weekly in Oregon's "Cottage Grove Sentinel" for 23 years.
This column is also available to publish in your newspaper.
Thank you for your donations which support this newsletter.
Mary Ellen's Silver Persians swam their way into readers and viewer's hearts!  International TV shows featured the swimming felines teaching pet-water-safety.
Their furry faces also appeared on a line of t-shirts and on Animal Planet and Anderson Cooper's show and in magazines/newspapers around the world. (France, England, Canada, China, Germany, USA, etc.) and are mentioned in Chicken Soup for the Soul books.
VIEW
Swimming for Anderson Copper
and
Forward this pet article onto friends and family.  They too can enjoy Pet Tips and Tales via E-newsletters. 
If you know another publication whose readers would also love these articles contact me.
or
Follow Pet Tips 'n' Tales on Facebook: 
When an email arrives from aweber.com  confirm that you wish to subscribe.
If you do not see the email in your IN box, check your spam/bulk area.
Mary Ellen ^I^    AngelScribe@msn.com
PS - You can also join my Angelic Inspirational newsletter: 
https://www.facebook.com/AngelScribe1111/