Prison 'Soup'
Published: Mon, 05/16/22
Leigh's dog, Soup, is famous for breaking 'into' prison!
Most dogs that do something 'bad' lower their heads and look ashamed. Not Michael and Leigh's three-year-old English Setter, Soup! He trudged off to jail for a rare prison break-in!
While quail-hunting in an Alabama pecan orchard, Soup raced into the woods after a deer's scent.  When he did not return, his family posted his "Lost" photo on Facebook.
"Five days into our search, Michael saw buzzards circling and felt that Soup was their dinner, until he found a deer's carcass," explained Leigh. "We had named the dog after my father, who inherited the nickname from his sister, Juleen, named after a popular 1940's soup. It was heart-wrenching believing we would never see him again."
Then a phone call from the prison, six miles away, gave them hope. A guard who was looking for his lost dog on Facebook saw Michael's post about Soup and recognized the picture as their new furry-jail house therapist.  A few days earlier, the facility's maintenance supervisor had found a scared and hungry dog at 6 a.m. lying by a state vehicle. After he fed the dog a biscuit, it followed the staff everywhere. Soup's tags had fallen off, so they named him Buddy, and the head guard donated an old mattress for his bed in the maintenance office.
The guard also installed a dog door for Buddy to come and go as he wished. He became a pampered-prison pooch living large at Kilby Correctional Facility while Leigh and Michael were worried sick about him.  
Inmates donated their dinners to their friendliest inmate. He feasted on roast beef, chicken tenders, steak and fruit cobblers. He played with them in their outside field, chased their basketballs and tussled with the security's team of K-9 drug-sniffing dogs. While in their custody, the happy English Settler taught the staff that their inmates would benefit from a therapy dog after observing everyone's healing reactions and interactions of joy.
Immediately after the prison guard's phone call, Michael drove over to see if the dog was Soup or not. He hopefully pulled up in his truck and whistled.  Soup trotted out from the maintenance shop and leapt into his arms before eagerly jumping in the front seat of the truck to go home.  Michael sat on the ground crying in relief.
"You absolutely knew that it was his dog," said the guard. "The dog and I were inseparable for three days, and he wouldn't come to me once Michael pulled up. Everyone could see 'Buddy' is well-loved and loves Michael."
"I teach kindergarten and one of our parents is the prison's K-9 Officer," said Leigh. "He told me that his dogs had fun playing with their new friend and that 'Buddy' was living high on the hog. This explains why Soup was depressed after his return! He was missing all his cell mates' attention and treats. His separation from his prison friends will be brief," said Leigh. "We're going for a visit with a pecan pie for the warden."
Soup's 'crazy adventure' was published in the Washington Post, shown on Alabama news stations, and, believe it or not, aired on a New Zealand TV station!
"People now recognize us as Soup's parents, making us almost as famous as him," laughs Leigh. "It is good to have him home. We missed his funny antics like going, 'Woooo Wooo' when he wants to play or announce that he is hungry. When he 'talks' he looks so funny because he sucks in his lips and looks like someone with no teeth.  He loves my homemade veggie soup, but luckily I won't have to make it with hidden jailhouse keys to bust him out of prison."
Soup's experience teaches us that even the 'ruff-ruff' moments of our lives can become rainbows for the future.  He had such an impact at that prison, including the guards, that  Leigh and her pastor are going to look into starting a prison dog program modeled after some she read about in earlier Tips 'n' Tales articles.
Tips 'n' Tales reader, Denice in Pennsylvania, said, ""We gift our Husky's fur, (he sheds up a storm), to the birds. We stopped his flea medicine and putting it on him after we heard that it poisons birds and affects their eggs."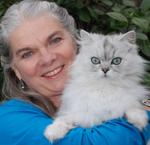 Tell Mary Ellen "Angel Scribe" and Myster E. your pet's story! 
Pet Tips 'n' Tales newspaper column has appeared weekly in Oregon's "Cottage Grove Sentinel" for 22 years.
This column is also available to publish in your newspaper.
Thank you for your donations which support this newsletter.
Mary Ellen's Silver Persians swam their way into readers and viewer's hearts!  International TV shows featured the swimming felines teaching pet-water-safety.
Their furry faces also appeared on a line of t-shirts and on Animal Planet and Anderson Cooper's show and in magazines/newspapers around the world. (France, England, Canada, China, Germany, USA, etc.) and are mentioned in Chicken Soup for the Soul books.
VIEW
Swimming for Anderson Copper
and
Forward this pet article onto friends and family.  They too can enjoy Pet Tips and Tales via E-newsletters. 
If you know another publication whose readers would also love these articles contact me.
or
Follow Pet Tips 'n' Tales on Facebook: 
When an email arrives from aweber.com  confirm that you wish to subscribe.
If you do not see the email in your IN box, check your spam/bulk area.
Mary Ellen ^I^    AngelScribe@msn.com
PS - You can also join my Angelic Inspirational newsletter: 
https://www.facebook.com/AngelScribe1111/