Mighty Flynn's Fast Recovery!
Published: Mon, 05/23/22
Mighty Flynn's Fast Recovery!

In 2020, the year famous for 'OH. OH's', Keeli's cat, Flynn, began limping. A trip to the veterinarian revealed a growth on his left back foot. Just to be safe, Flynn had an abdominal ultrasound which, luckily, showed no other signs of cancer.

"Flynn is my therapy animal. He helps me through the 'not so fun' times of life," said Keeli.  "I owed it to him to try and save his life, so we had his leg removed.

Once home, he was on pain medication, and it was hard keeping him from jumping which is natural for a cat. His recovery was ruff, it was difficult watching him have muscle spasms. I felt terrible for putting him through the life altering surgery but knew he still had so much life to live. I have talked to other three-legged pet parents, and they all confess this same feeling. Then it evaporated once we saw how well our pets adjusted.

Surprisingly, Flynn took to three-legged life quickly. He learned how to balance, stand, walk, eat, drink and use the litter box. In the beginning, he was constantly by my side looking to me for reassurance. I was now his therapy human during his 'not so fun' time.

Flynn has the nicest purrs-onality. He is an amazing little soul who quickly returned to playing, chasing a red laser light, jumping, climbing, leaping, and running as fast as before and talking nonstop.

Pets are amazing at adapting to three legs. There was no reason for me to have worried. He is living his spoiled life with his five rescued kitty siblings.

He is talkative, letting us know what he wants.  His purr is loud, and he loves being held and carried around, which I, too, love.

He is proud of his collection of collars which he insists on wearing at all times! He burrows underneath blankets to nap. He shows jealousy when he has to share me with the other kitties. Flynn and his siblings love their treats, and they sit cutely together for it.

He loves playing with catnip and cracks me up when he comes into the house from the catio. He lays on his back and pulls himself up the cat tunnel with his paws. It's funny because he looks like he is climbing a ladder laying down!

Every day, the cats make me laugh with the quirky things they do. They melt my heart by how sweet and loving they are with me and their siblings. I designed their room and catio with things to climb, jump on and lay on. This Spring we are renovating and updating the catio to keep them happy and healthy.

A household of cats is fun, silly, and full of furry loving. The only thing I wished they didn't do is shed so much and to stop bringing worms in from their catio - every day!"
 
"At night, after Flynn's surgery, I leashed him in his harness beside me on the bed so he would not risk jumping or falling off," said Keeli. "When he had his stitches removed, I also had the veterinarian shave his bottom because his long fluffy fur was getting in the way of re-learning how to use the litter box. Once the wound's swelling went down and he was feeling better, he quickly grew stronger. I take him outside on his harness and leash so he can practice walking and climbing stairs. He's gained strength, balance and coordination quickly and adapted better than I had thought paws-ible."
Keeli added, "Pet parents should do an online search as some plants, foods and flowers are poisonous to pets. I don't bring lilies, snake plants or poinsettias in the house and research before buying plants and flower bouquets."

HINT: Sprinkle used kitty litter in mole mounds, then stomp closed.  
Smelly litter removes moles from the yard as they assume predators are nearby.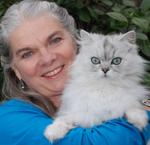 Tell Mary Ellen "Angel Scribe" your pet's story and share this one with your friends.
Pet Tips 'n' Tales newspaper column has appeared weekly in Oregon's "Cottage Grove Sentinel" for 23 years.
This column is also available to publish in your newspaper.
Thank you for your donations which support this newsletter.
Mary Ellen's Silver Persians swam their way into readers and viewer's hearts!  International TV shows featured the swimming felines teaching pet-water-safety.
Their furry faces also appeared on a line of t-shirts and on Animal Planet and Anderson Cooper's show and in magazines/newspapers around the world. (France, England, Canada, China, Germany, USA, etc.) and are mentioned in Chicken Soup for the Soul books.
VIEW
Swimming for Anderson Copper
and
Forward this pet article onto friends and family.  They too can enjoy Pet Tips and Tales via E-newsletters. 
If you know another publication whose readers would also love these articles contact me.
or
Follow Pet Tips 'n' Tales on Facebook: 
When an email arrives from aweber.com  confirm that you wish to subscribe.
If you do not see the email in your IN box, check your spam/bulk area.
Mary Ellen ^I^    AngelScribe@msn.com
PS - You can also join my Angelic Inspirational newsletter: 
https://www.facebook.com/AngelScribe1111/